Adrian is a green watchdog
Jun 08 2012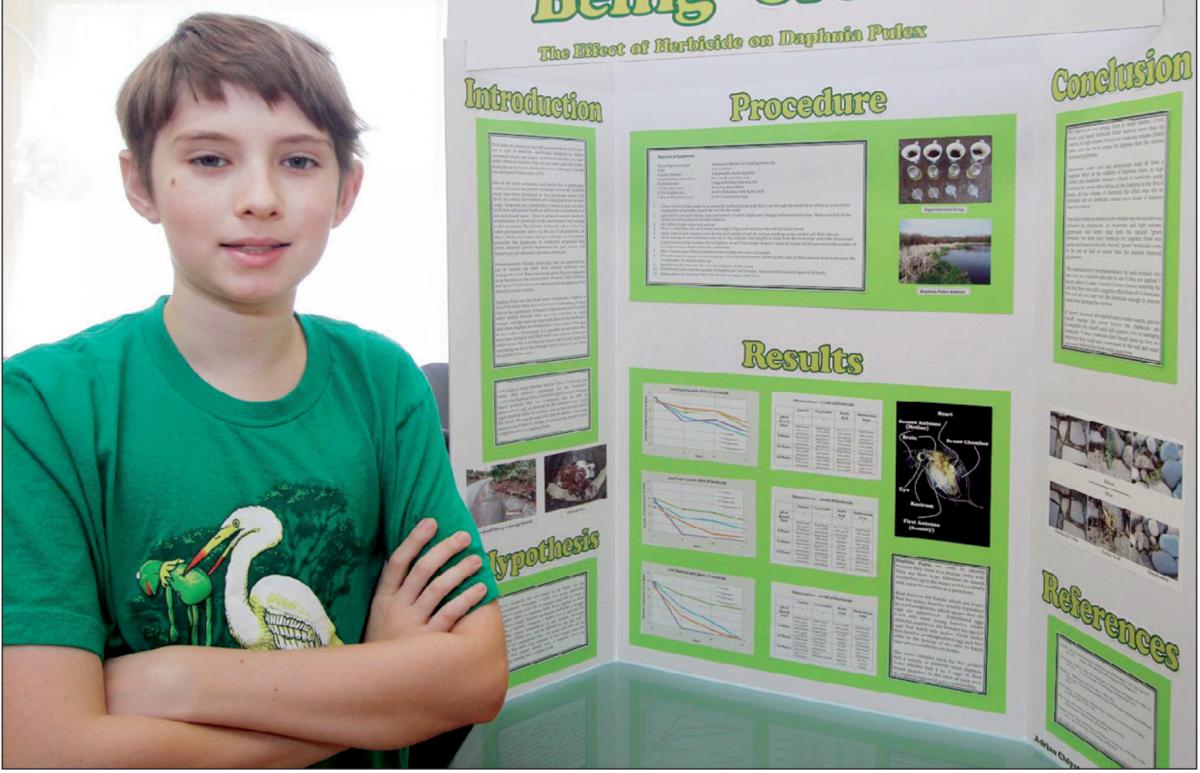 Grade 7 student Adrian Chlysta poses with his Vancouver Island Regional Science Fair project at his home in Victoria.
Photograph by:
Adrian Lam, Times Colonist , Times Colonist
Just how safe are so-called environmentally friendly herbicides?
Twelve-year-old Adrian Chlysta wanted to find out, so he turned it into a science-fair project. Concerned about herbicides affecting water quality around his Saanich home, he designed an experiment to put "green" products to the test and was surprised by the results.
Using water fleas as an indicator of water quality, Adrian took water samples from Swan Lake in Saanich to test Roundup, along with two herbicides claiming to be environmentally friendly.
He applied the herbicides to soil in coffee filters over jars of lake water, thereby simulating run-off water.
"The watershed for Swan Lake is very large and everything we do in the drainage area of this lake can affect the quality of the water," Adrian explains on his website for his project.
After three weeks of checking his water fleas, Adrian found the "green" chemicals killed more fleas than Roundup - showing even herbicides claiming to be environmentally friendly can contaminate water sources.
Adrian, who is home-schooled by mom Sharon Chlysta through South Island Distance Education School, entered the experiment in the Vancouver Island Regional Science Fair, where it won third place in his age group, second place in the Virtual Science Fair and top prize at his school.
While they were collecting supplies for his experiment, Chlysta says she and Adrian wanted to isolate specific ingredients in the environmentally "friendly" herbicide - they wanted one that was strictly acetic acid rather than a mix - but quickly realized while shopping at Home Depot that not all the ingredients were labelled.
"Personally, that's when my alarm bells went off," Chlysta said.
Regardless of whether Adrian's results are scientifically significant, Caren Helbing, professor of biochemistry and microbiology at the University of Victoria, says products that claim to be natural aren't necessarily safe.
Companies are required to list active ingredients in herbicides, but not all contents, said Helbing.
A common ingredient that companies aren't required to list is surfactant, used to get herbicides to stick to plant leaves better.
"Typically, surfactant has been touted as inert, or in other words doesn't have any effect. But our research that we did a few years ago shows that it isn't inert, necessarily, depending on the type of surfactant."
Companies with herbicides claiming to be environmentally friendly don't need to divulge their full formulas, either.
Helbing, who recommends opting for gardening practices that don't involve herbicides, says more information should be on the backs of the bottles, and more scientific information is needed on the effects of herbicides on wildlife and the environment.
Meanwhile, Adrian's project has had lasting results on his family's gardening habits - they are getting rid of weeds the old-fashioned way, by pulling them.
mkaralis@timescolonist.com
We thought you might also be interested in..
Notice
: Undefined index: event in
/home/viccity/public_html/v2/content.php
on line
67