Dragon boat event seeing green
Jun 09 2012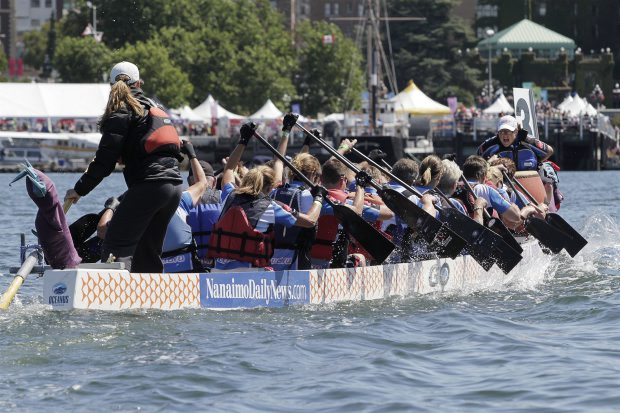 BLU BY U of Nanaimo competes at last year's Victoria Dragon Boat Festival. Organizers are hoping to reduce waste through composting and recycling at this year's event, which is scheduled to take place Aug. 17 to 19.
Photograph by:
Lyle Stafford , timescolonist.com (June 2012)
Victoria's annual dragon boat festival will have an eco friendly edge this year.
Through composting and the use of recyclable materials, the Victoria Dragon Boat Festival Society is hoping to save at least one tonne of waste during competition weekend Aug. 17 to 19.
Society chairman Mark Grey-Dreaper said in past years the festival had two large dumpsters to hold waste, but this year there will be just one small bin.
"We're attempting to reduce waste on the site," he said Friday, adding that the festival has the help of Victoria-based OrganiCo Waste Recovery Systems Ltd.
"We're diverting waste from landfills."
The 18th annual Canada Dry Victoria Dragon Boat Festival launched Friday to the sound of drums and a lively Chinese dragon dance.
The Terrace Room at the Inn at Laurel Point was decorated with banners depicting key themes of this year's festival, including community, friendship and dragons.
To emphasize the festival's environmental flair, the launch coincided with World Oceans Day.
In honour of the current Chinese calendar year, the overarching festival theme is the awakening of the water dragon, a symbol of "power, change and growth" that occurs every 60 years, Grey-Dreaper said.
These values are central to the festival as it continues to evolve, he said.
A new addition this year is the first-ever open division.
It will allow for an all-male or all-female team, Grey-Dreaper said. Typically, there are restrictions on the number of male or female paddlers in each boat.
A maximum of 90 teams, or 2,400 paddlers, will participate in this year's festival that will see boats racing on Victoria's Inner Harbour.
Proceeds go toward the B.C. Cancer Foundation, which has been the partner charity for the past four years.
Last year, more than $100,000 was raised for the charity through fundraising initiatives that included the Lights of Courage paper lantern campaign and Paddler's Pledge Drive, taken on by individual paddlers. In four years, the festival has helped raise $370,000 for the B.C. Cancer Foundation.
Along with higher fundraising numbers each year, the dragon boat festival continues to amp up the level of competition.
The Merlin Excalibur, a high-tech paddle equipped with sensors, was proudly displayed at the launch event.
The Victoria Dragon Boat Festival Society bought the paddle last year for $3,500 and teams use it to better understand how to propel a boat forward. It measures things such as power, effort and timing.
"We're always looking for ways to improve," Grey-Dreaper said.
For more information, go to victoriadragonboat.com. cclancy@timescolonist.com
We thought you might also be interested in..