Jack Knox column: Farmers miffed at $100 ticket for fugitive duck
Jun 09 2012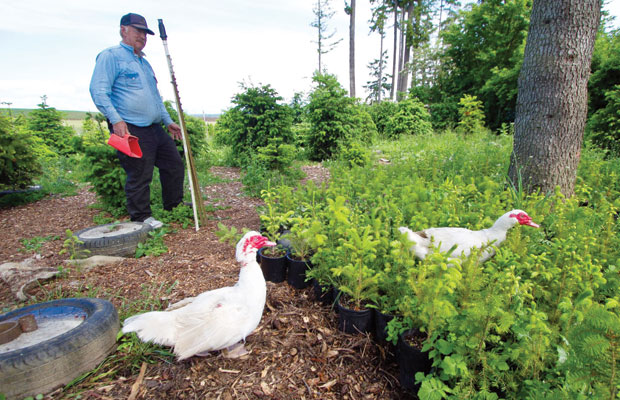 Central Saanich farmer Michael Fleming keeps an eye on a pair of Muscovy ducks, among the 10 or so he and his sister, Joan Fleming, keep on their farm to eat slugs. They do a good job. But even with wings clipped, the ducks can escape. The Flemings were issued a $100 ticket, which they disputed.
Photograph by:
Darren Stone, Victoria Times Colonist , timescolonist.com June 2012
With deer, starlings, geese, ravens, rabbits and raccoons chewing through the crops like a stoner with the munchies, Central Saanich farmers Joan and Michael Fleming want to know: Did the Capital Regional District really need to fine them $100 for a loose duck?
Well, yes, according to the law, it did. That's why, even with the ticket now rescinded, the Fleming siblings' feathers are ruffled.
To them, it's a sign that despite all the lip service politicians pay to local agriculture, farmers still get bruised when rural sensibilities clash with urban.
In this case, the collision involved the 10 or so Muscovy ducks that the brother and sister keep on their East Saanich Road farm.
These are working animals, not pets, Michael says. "We've got these ducks for a particular reason: They eat slugs."
In fact, the birds do such a good job that the farm needs not resort to poison.
"We don't have to use slug bait. That's good for the environment."
But the ducks have been known to run - ahem - afowl of the CRD animalcontrol bylaw. Even with their wings clipped, Muscovy ducks - which in South America climb and roost in trees - have little trouble scaling fences with their clawed feet. When the rain leaves puddles on the pavement, or the brooding females are cooped up on their nests, the bored boy ducks have been known to take a wander onto the street, slurp some road salt, eat a bit of gravel on the walking path.
This has annoyed someone to the point of going to the CRD, which earlier this spring sent a bylaw officer to talk to the Flemings.
When the complainant then sent photographic evidence of a duck at large, a $100 ticket was issued. Michael was miffed. "A hundred bucks is like 50 bunches of carrots to me."
He was irked that this is where government, which has done little as predators wipe out farmers' livelihood, should focus its resources. "It's totally absurd," he says. "It's not as if the ducks are attacking anybody."
No, but there was a traffic hazard, says Don Brown, the CRD's chief bylaw officer. One of the Flemings' big birds - a Muscovy can grow to 15 pounds - got hit by a car in March. "Nobody likes running over a duck."
A Pender Island farmer got ticketed after similar complaints from neighbours, Brown notes. CRD bylaw inspectors have dealt with infractions involving cattle and horses, have even had llamas and, on one memorable occasion, an alligator in the pound. When someone complains that a bylaw is being broken, the CRD must react.
But in this case, when the Flemings declared their intention to dispute the fine, the complainant balked at being pulled into the court process. As a result, the CRD rescinded the ticket this week.
Doesn't mean an end to the eternal urban-rural conflict, though. The Saanich Peninsula toggles back and forth between small farms and clusters of houses, tractors sharing the road with commuters bluetoothing their way to the office downtown. A loose-duck beef is just one symptom of a world in which people move to the country, then moan about the smell of manure.
Michael Fleming says he has farmed on the Saanich Peninsula all his 59 years.
He and sister Joan have worked their jointly owned five-acre East Saanich Road property since 1980. (They also have a couple of acres in Brentwood Bay and another 50 at Shawnigan Lake.) It's called the Saanichton Christmas Tree Farm, but they also do hanging baskets and have a variety of fruit and vegetables: carrots, onions, garlic, strawberries, beets, squash.
Farmers always face some sort of challenge. This year's strawberries probably won't ripen until the end of June, three weeks late.
Worse are the humancaused woes, like the Halloween a few years back when vandals opened the gates to the Brentwood Bay property, allowing a pair of fireworks-spooked ostriches to bolt into the night. Police shot the birds with the blessing of the farmers, who understood the danger posed by what were, in effect, a couple of 250pound rampaging chickens.
Those birds posed a threat, says Michael. The ducks just eat slugs.
jknox@timescolonist.com
We thought you might also be interested in..