Proposed Carr monument divides Chemainus
Jun 10 2012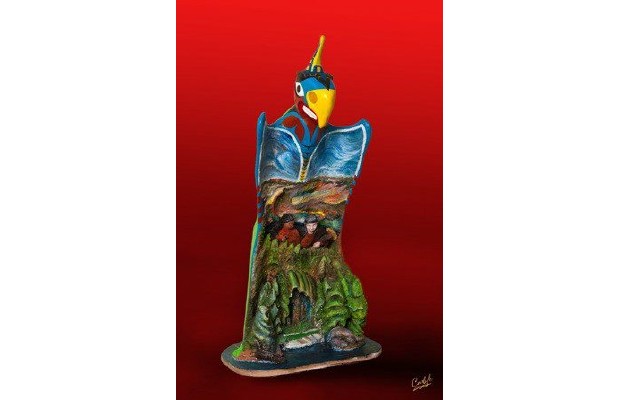 A model of the controversial Emily Carr Monument that has been proposed for Chemainus.
Photograph by:
emilycarrmonument.com , timescolonist.com (June 2012)
Chemainus residents are split over plans for a 16-metre-high public art structure honouring famed Victoria artist and writer Emily Carr.
The proposed monument is a brightly coloured thunderbird with wings that envelop two figures.
Images of the sky and forest are displayed on the bird's wings that branch out into two pillars, allowing for a pathway to pass underneath. The base itself will be six metres wide.
Several of Carr's paintings, including Chemainus Bay, provided inspiration for the monument.
Town resident Mark Kiemele attended a May 31 meeting held to solicit public feedback.
He said the best word to describe the structure is "silly."
"This thing would be a glaring distraction," he said, adding that the proposal would place it in the centre of town at Waterwheel Park.
Kiemele said the town's pride rests in its 30-year-old mural project, which turned the town into an outdoor art gallery. He said the Carrinspired thunderbird would be out of place.
"[It] takes away from the murals accounting for history," he said.
Karl Schutz is project coordinator for the Emily Carr Monument, which carries a price tag of $300,000. So far, $50,000 has been raised, he said, adding that until funds are secured, there's no set timeline in place.
Schutz is hoping to receive funding from the municipality of North Cowichan.
"We'll ask for seed money," he said. "We believe we can't go to the provincial or federal government without the [city's] stamp of approval."
In 1971, Schutz proposed the mural project for which Chemainus is now famous.
"I was laughed out of town," he said, adding that he found support a decade later. It's a similar story now, he said.
Schutz's goal is to have the Emily Carr Monument as the centrepiece of an outdoor art gallery dedicated entirely to the artist. Currently, there are seven Emily Carr murals in Chemainus.
"My dream is to have 70 or 80 of her paintings displayed, and her pottery and writings," he said.
"I'm quite sure as an artist, she'd definitely approve of what we're doing."
Kathy Wachs is chairwoman of the Chemainus Valley Cultural Arts Society. She said she has concerns about the monument, especially in terms of its location.
"This is something that we have to deal with every day," Wachs said, adding that there was a lack of consultation with town residents.
"Public art is really important and means a lot to the community, but if it doesn't grow out of the community - it's not going to fit in very well.
"It's mostly the structure itself," she said. "The size is a big factor, the colours are bold, there are some people who don't really understand the connection between Emily Carr and Chemainus."
Carr, who died in 1945, visited the Chemainus Valley in 1924.
"Emily Carr has not been a major factor in the history of Chemainus," Wachs said.
Charles Johnston, a Winnipeg-based artist, is the creative force behind the monument and said the natural environment inspired him.
"I'd like the effect to be when the viewer walks into the piece, they'll see the forest through Emily Carr's eyes," he said.
Johnston was commissioned for the structure in 2010. The structure, he said, combines the two art forms of mural painting and sculpture.
He said he plans to match the colours of the structure exactly to Carr's paintings and will highlight details of her art, including her brush strokes.
The main form of the thunderbird, he said, is protective of nature.
"I think [Carr] was overtaken by the spirit of the forest," he said. "It's great to be able to do this kind of homage for an artist of her integrity."
cclancy@timescolonist.com
We thought you might also be interested in..