Views diverge over hearing into brawl
Jun 10 2012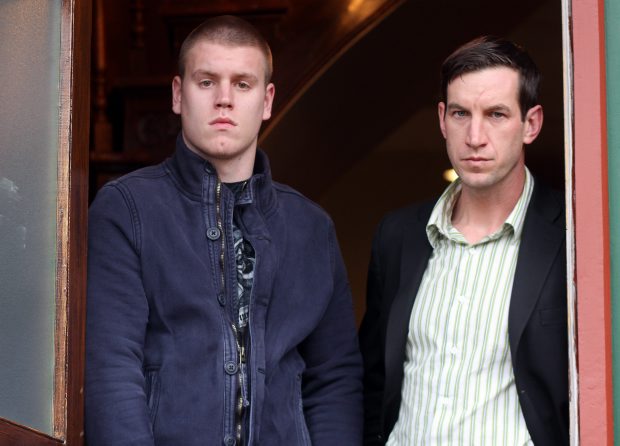 Lawyer Richard Neary (right) is representing Tyler Archer.
Photograph by:
Bruce Stotesbury , timescolonist.com (June 2012)
More than 200,000 people have watched the YouTube video of Tyler Archer being kicked by a Victoria police officer during a brawl on Store Street in March 2010.
Now a six-week public hearing ordered by the Police Complaint Commissioner into the case is set to begin June 20.
Last month, the lawyer representing Archer applied to have the hearing suspended. Richard Neary said it wasn't fair to force his client to participate until his civil suit against two Victoria police officers has been resolved. But the application was denied.
"Although I recognize that the outcome of the public hearing could be inconsistent with the outcome of any civil proceeding, the consequences of that inconsistency would not, in my judgment, damage public confidence in the police complaint process," said adjudicator Ben Casson, a retired provincial court judge.
"What would damage public confidence - would be to allow civil claims initiated by potential witnesses at the public hearing to suspend for months or, perhaps, years a public hearing called primarily in the public interest of having effective police oversight. That, in my view, would be unacceptable."
At a pre-hearing conference on May 18, Neary had told Casson that Archer does not want to participate in the public hearing before his civil action against constables Chris Bowser and Brendan Robinson and the City of Victoria has been heard.
The suit by Archer and Harpinder Kang - another man allegedly roughed up by police in the YouTube video - is expected to be heard in B.C. Supreme Court in February 2013.
"Any such participation would be under protest," Neary said. "Mr. Archer was beaten in the course of what he alleges was an unlawful arrest. He does not have publicly or otherwise funded counsel for participation in a lengthy public hearing."
Archer wants to focus his limited resources on the civil process, which is expected to take 10 days, said Neary.
Neary is concerned potential jurors will have their views tainted by media coverage of the public hearing, "particularly opinions clothed with the aura of official and authoritative conclusions by statutorily appointed adjudicators."
Commission counsel John Heaney opposed Neary's application for a suspension, stating it has not been a practice for Police Act proceedings to await the outcome of civil trials. He also dismissed Neary's concerns about a jury pool tainted by media coverage.
"A well-instructed jury will do the very best job it can, irrespective of what appears in the Times Colonist, with respect to this public hearing," he said.
But Neary said holding the civil trial first could also save time and money, as it will look at the same questions and require the same witnesses as the public hearing. And while evidence from the civil trial will be admissible at the public hearing, none of the evidence from the OPCC hearing is admissible at the civil trial.
"It may not be my place to talk about why thousands and thousands of dollars are going to be spent, but I think it's a very important point that the evidence and verdict on a civil trial would be admissible in the OPCC proceedings and would undoubtedly shorten the proceedings," Neary said.
With the evidence and findings from the civil proceedings, taxpayers could be spared the expense of a public hearing and a review on the record would suffice, he argued.
"There is something inherently wrong with compelling the participation of the person most affected by the alleged misconduct in this matter and such an approach is likely to shake public confidence in the complaint process," Neary said.
In earlier submissions, Neary raised the case of retired Victoria police sergeant George Chong, whose disciplinary proceedings under Police Act were concluded before a criminal trial. Chong was found not guilty of using excessive force under the Police Act and later convicted of assault, which he is appealing.
"When that occurred, there were numerous public statements by the Commissioner about how it had been a mistake to proceed with the discipline proceeding first prior to the trial and the difficulty with dual proceedings, and I think all of those same concerns apply here," Neary said.
Heaney dismissed the comparison, saying the Chong matter was different because it was a criminal trial.
Like Heaney, lawyers representing the police officers opposed any delay in the public hearing.
David Butcher, who represents Robinson, did not want to give standing to Neary at the public hearing and described Archer and Kang as mere witnesses. (Archer and Kang have been given limited participant status in the hearing. Neary will be able to lead their evidence and crossexamine Bowser and Robinson. He will also be able to make final submissions.)
Butcher said a jury trial would not assist the public hearing process.
Initially, New Westminster Police Chief Dave Jones, as disciplinary authority, substantiated allegations of excessive force against Bowser and Robinson in their treatment of Archer and recommended the officers receive a reprimand. However, during the disciplinary proceedings, both officers and a useofforce expert testified.
Archer and Kang, who were not allowed legal representation, withdrew their complaints. Jones reviewed and reversed his decision. At that point, Police Complaint Commissioner Stan Lowe ordered a public hearing, said Neary.
ldickson@timescolonist.com
We thought you might also be interested in..