Teens sign up to learn dying language
Jun 12 2012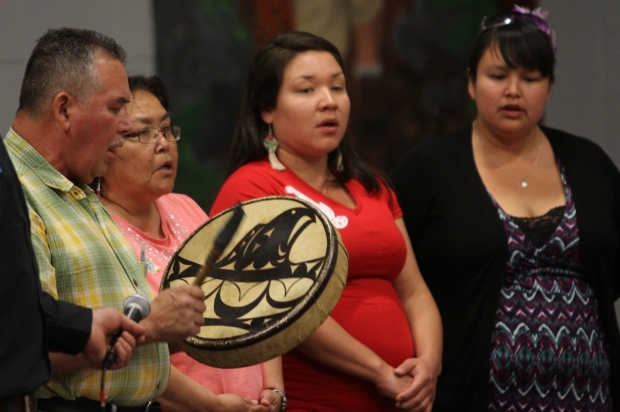 John Elliott, left, who teaches Sencoten at the Lau,welnew Tribal School, sings a prayer at an event celebrating the plan to offer the language course at Stelly's Secondary
Photograph by:
Bruce Stotesbury , timescolonist.com (June 11, 2012)
A few years ago, only a dozen people could speak Sencoten, the dangerously dwindling language spoken by the Wsanec people of the Saanich Peninsula.
Stelly's Secondary School is hoping the First Nations language will see a resurgence in September when the high school begins offering an elective class in Sencoten.
About 50 students have already signed up, mostly First Nations teens who are eager to preserve a part of their heritage that was stifled during the residentialschool era.
John Elliott, who teaches Sencoten at the Lau, welnew Tribal School, said language is a key part of the First Nations identity. For youth, he said, learning their language fosters a sense of pride in their heritage.
"It's a sense of a true identity to this land and territory, because of the loss of language and the denial of language rights in Canada," Elliott said. "That's what we're trying to change."
There are 900 students at Stelly's and about 110 are First Nations. The school will offer one class per semester, along with a night class for adults.
Many Stelly's students have already downloaded the Sencoten iPhone app, developed in 2010, which offers a bilingual dictionary and phrase guide in Sencoten with audio recordings, pictures and videos.
A new app due out next month will eventually let students text and chat with each other in Sencoten.
It's part of the First Voices website, which focuses on archiving endangered First Nations languages.
Cpl. Pat Bryant, Central Saanich police school liaison officer, and deputy chief Les Sylven both plan on taking the Sencoten night class so they can better connect with the First Nations population.
Stelly's is not the first school on Vancouver Island to offer an elective in the local indigenous language.
Cowichan Secondary School offers Hul'qumi'num and Bayside Middle School in Central Saanich allows students to take Sencoten instead of French. Stelly's principal Peter Westhaver hopes students from all backgrounds will take the course.
He also wants to see more high schools offer First Nations language classes.
A 2010 report by the First People's Heritage, Language and Culture Council found that First Nations languages would be lost in the next six years if more isn't done to improve language education.
The number of people fluent in First Nations languages has dropped 95 per cent in the last 120 years, due to colonialism and residential schools, the report found.
There are 34 distinct languages and 59 dialects in B.C., but only five per cent of the First Nations population is fluent, and most of those are elderly.
Philip Tom, a member of the Tsartlip band and education assistant at Stelly's, said the Sencoten course "is honouring our culture, our elders and the people who put the hard work into revitalizing the language.
"There's a lot of family pride that comes with the language, so it's only fair that we come together and learn it."
kderosa@timescolonist.com
We thought you might also be interested in..
Notice
: Undefined index: event in
/home/viccity/public_html/v2/content.php
on line
67