Cash crunch has bars turning to strippers
Jun 12 2012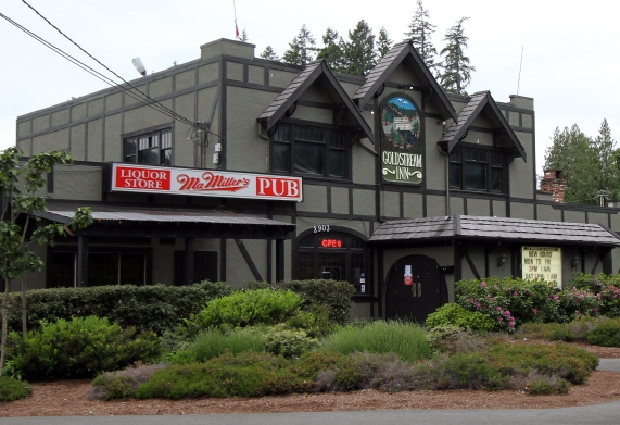 Ma Miller's Pub: Dancers scheduled to start June 20.
Photograph by:
Bruce Stotesbury , timescolonist.com (June 11, 2012)
A Langford pub is bringing in exotic dancers, joining several other B.C. bars that are looking to strippers to improve business.
The dancers are expected to debut June 20 at Ma Miller's Pub on Sooke Lake Road, where owner Dan Stephenson said he is struggling with declining revenue.
"I've tried to get people in there ... I've tried to reach out to the neighbourhood," said Stephenson, who has informed the city of his plans. "I have a lot of money that I want to get back out of that place. The landlord is not impressed that I'm going this [route] either, but it's down to survival mode now."
Stephenson said he believes there's a market for exotic dancers in Langford. "It's not just old perverts that go to these places. There's more women than men in most places now," he said.
Making the transition to erotic entertainment, however, has its obstacles. Some Langford council members say they would ban strip bars if they could, but the bar's licence permits it. "I think it's a good idea not to have that type of licensing permitted within our zoning at all," said Coun. Lillian Szpak. "I'm not sure we can do that, but I'd like to look into it."
Wayne Kalnciems, a Victoria-based promoter for exotic dancers, said there's been a recent increase in the number of B.C. strip clubs because bar owners are struggling. His company, W.K. Entertainment, books dancers at new clubs in Kelowna and Prince George. He also handled bookings for two up-Island bars for about a month after they introduced dancers in April.
Paul Manhas, the owner of the bars near Nanaimo, said he is attempting to reverse declining revenues by bringing in strippers. Manhas added exotic dancers to his Club 241 in downtown Nanaimo. He coordinated scheduling so the dancers could also work at his Arlington Pub on the Island Highway in Nanoose Bay.
"The pub business is a dying business - it's not the same as it used to be," said Manhas, who also owns four liquor stores in Nanaimo. "People aren't going out as much anymore. Liquor store sales have been up for a while, but bar sales are down."
At Ma Miller's, Missy Dunn will help manage the new entertainment. Dunn, who has worked at other strip clubs, argues a properly operated club does not attract problems. "I know what it's like out there. As long as you take care of the room and obey the laws and you're not over-serving and you're diligent at the door, there aren't going to be any problems," she said.
dspalding@timescolonist.com
We thought you might also be interested in..