Relief from life on the streets
Jun 13 2012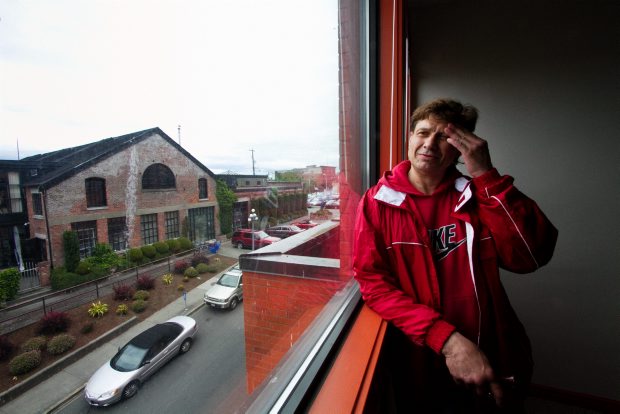 Resident Kurtis Wilson, 52, checks out the view from his apartment at Swift House, a supportive-housing development at the former Streetlink shelter on Swift Street.
Photograph by:
Darren Stone , timescolonist.com (June 2012)
The emotion on Kurtis Wilson's face Tuesday upon trying to explain to a room full of people what it meant to matter - what it meant to have safe and permanent housing - was apparent to all who attended the official opening of Swift House Tuesday.
The former Streetlink shelter on Swift Street, across from Canoe brewpub on the Outer Harbour, had operated as a shelter with an additional 26 supportive apartments when it opened in 1991. But soon the shelter location became a problem and the cry for permanent solutions was deafening. In 2011, its emergency shelter beds moved to Rock Bay Landing.
The redeveloped Swift House showcased Tuesday offers 49 supportive housing apartments, managed and operated by the Victoria Cool Aid Society. The openconcept apartments feature wheelchair-accessible washrooms and fixtures and "million-dollar views" of the Outer Harbour, Wilson said.
Wilson, 52, has been homeless off and on since a workplace accident in 1987 ended his union job as a carpet layer.
"The streets are harder than you can probably imagine unless you have been there," Wilson said.
Wilson is enjoying the relief of not having to look for shelter anymore or having to sleep on a cold mat on the ground. His apartment is outfitted with a couch and kitchen table, a place to store his bikes and a fridge.
The province provided $2.45 million in construction financing for the renovations, and is kicking in annual operational funding of about $1 million.
The redevelopment is the third and final project under an agreement between the province and the city to create more than 170 new or upgraded units of supportive housing, said Ida Chong, minister of community, sport and cultural development.
Rock Bay Landing, a $16-million shelter and transitional housing development, officially opened in November 2010 to provide temporary housing and support services for people who are homeless or at risk of homelessness in Victoria.
In November 2011, Camas Gardens on Humboldt Street opened, providing 44 new apartments of supportive living.
Victoria Mayor Dean Fortin sung the praises of strong partnerships.
Ending poverty or mental health and addictions is not possible, but ending people living in the streets is, the mayor said. "That is our goal, to end homelessness."
Similarly, Kathy Stinson, executive director of the Victoria Cool Aid Society, said Swift House is just one example of how an inclusive, safe community for people in need can be built.
ceharnett@timescolonist.com
We thought you might also be interested in..
Notice
: Undefined index: event in
/home/viccity/public_html/v2/content.php
on line
67