Thousands back campaign for cloth diaper subsidy
Jun 13 2012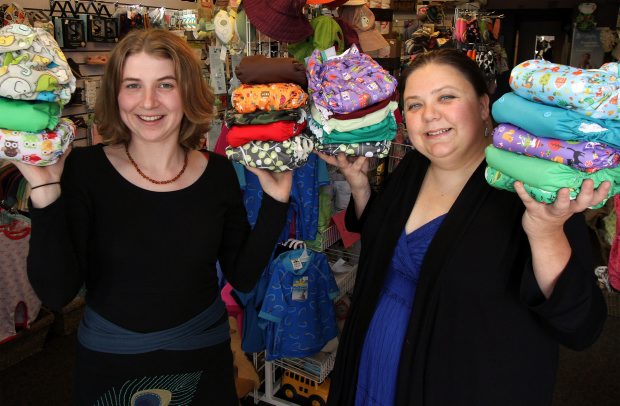 Cloth diaper advocates Stephanie Baird, left, and Rachel Aube show off some of the options available at Abby Sprouts in Victoria on Tuesday.
Photograph by:
Bruce Stotesbury , timescolonist.com (June 2012)
Touted as eco-friendly and economical, cloth diapers are gaining support in Victoria. A group that rounded up more than 4,000 signatures for a local petition is now asking for a municipal cloth diaper subsidy.
"If you can take the anxiety of trying something new out of the equation, it's good for the environment, for the family, for the babies," said Rachel Aube, who is spearheading the subsidy campaign.
Aube said the minimum start-up cost for diapering a newborn in cloth is between $200 and $250, but can range up to $600.
"The sticker shock of the start-up puts people off," she said.
Aube, who has worked as an administrator for Real Diaper Industry Association, a trade union that promotes cloth diapers, said her hope is to implement a local subsidy of $100 to $200 to help make it easier for parents to choose cloth.
In the long term, cloth diapers cost far less than their disposable counterparts, she said, adding that the result can be hundreds of dollars in savings.
They also offer a green alternative to disposable diapers, which are slow to decompose, Aube said.
"The thing about cloth is you're not throwing it away," Aube said, adding there are a variety of options for parents. One system involves buying a diaper cover and individual inserts that can be used and washed as needed.
"It's like the plastic water bottle - we're reducing our carbon footprint," she said.
In May, Aube presented her case to the Capital Regional District's solid waste advisory committee.
Chairwoman Jane Mendum said a recommendation for further investigation has been made to the environmental sustainability committee. The next step is for the city's environmental resource management department to issue a report, outlining the options for a subsidy.
"A timeline was not set, but I'd anticipate it would be along shortly," Mendum said, adding that the subsidy would be a "great fit."
"It's keeping with our goal to divert waste from the landfill," she said.
In March 2011, the council of Verdun, Que., a Montreal borough, opted to spend $24,000 on a cloth diaper subsidy program. Parents who bought a washable diaper kit for babies under six months of age could qualify for a $100 subsidy.
cclancy@timescolonist.com
We thought you might also be interested in..