Father's ordeal inspires cycling fundraiser trek
Jun 13 2012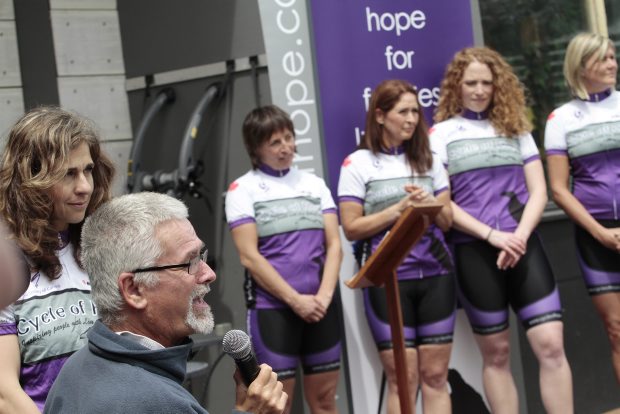 David Cook, who has ALS, or Lou Gehrig's disease, speaks Tuesday at the launch of Cycle of Hope, a charity bike ride to raise money for the ALS Society of Canada.
Photograph by:
Lyle Stafford , timescolonist.com (June 2012)
For Cindy Lister, Cycle of Hope is more than just another charity bike ride. Lister will cycle 650 kilometres in honour of her father, who died of ALS in October last year.
"What would you do if today your doctor told you that you had ALS?" Lister said at Tuesday's launch event. "Would you know what it means?"
Supporters gathered at Trek bike store to celebrate the fundraising campaign in advance of Lister's 10day bike ride. With five others, Lister will leave Kamloops on Aug. 8, and finish her ride in Hope.
When Lister's father was diagnosed with ALS three years ago, no one in his family understood the disease. Commonly known as Lou Gehrig's disease, ALS affects the motor neurons of the brain, causing loss of muscle control and difficulty speaking, among other symptoms.
"I saw my father's body slowly getting weaker," Lister said. "It started with his arms. He couldn't eat, he couldn't speak and he couldn't breathe."
Lister's mission is to increase awareness about ALS, raise funds to contribute to research and give hope to those living with ALS. With a target of raising $5,000, Lister hopes to make the Cycle of Hope an annual fundraiser for the ALS Society of Canada.
The team's jersey design includes a crow, a symbol in honour of Lister's father.
"It's my dad's courage and his wisdom," she said, adding that it also evokes the hardest part of the team's cycle, Crowsnest Pass. "We need to face that with courage because it's very hilly."
The team will accept donations through the Cycle of Hope website and will hold an online auction over the next month for a jersey signed by Victoria's Ryder Hesjedal.
Longtime ALS sufferer David Cook, who earned a silver medal in sailing at the 1996 Atlanta Paralympic Games, spoke at the launch event about his struggle with the disease.
"Twenty-one years ago, I was diagnosed with a rare form of ALS similar to the famous philosopher Stephen Hawking," he said.
"Fortunately for me, my symptoms are very slow to progress."
For more information, go to cycleofhope.ca.
CHARITY RIDES
This summer will see a number of charity bike rides spearheaded by teams in the Victoria area.
Cycle of Life Tour, June 5, Victoria to St. John's, N.L. Sean Jacklin set off last week on a cross-Canada ride to raise money and awareness for Victoria Hospice.
Boomer's B.C. Bike Ride, June 15-16, from Comox to Victoria. Boomer's Trust is a charity founded by Maureen Eykelenboom of Comox, whose son, medic Andrew (Boomer) Eykelenboom, was killed in Afghanistan in 2006. The foundation funds projects in places where Canadian troops operate.
EpicMSycle, June 28 to July 14, Victoria to Los Angeles, California. Six friends are cycling to raise money for the Multiple Sclerosis Society of Canada.
The Finity Project, Sept. 9, Kamloops. Lee-Anne Fava and Kara Byrne will complete the Rona MS Bike Tour for the MS Society of Canada.
cclancy@timescolonist.com
We thought you might also be interested in..
Notice
: Undefined index: event in
/home/viccity/public_html/v2/content.php
on line
67