How sweet it is: Island berries are early
Jun 14 2012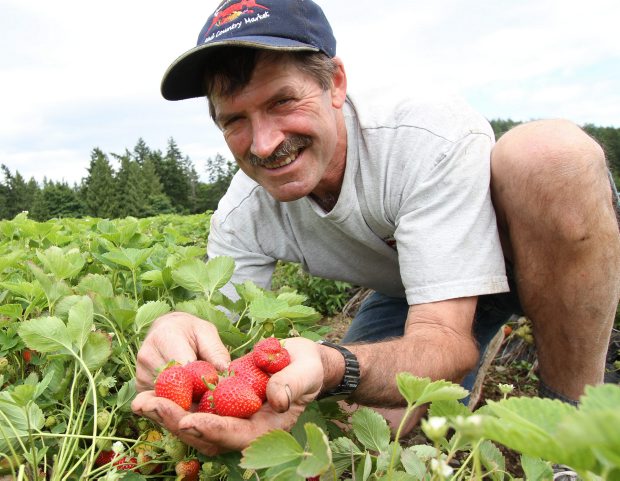 Dan Ponchet admires the first strawberries of the year at a field near his Saanichton market on Wednesday.
Photograph by:
Bruce Stotesbury , timescolonist.com (June 2012)
Freshly picked, super-sweet strawberries - the celebrities among Greater Victoria's farm produce - are ripening and filling flats and pint boxes at market stands.
Despite cool temperatures this spring, berries are arriving about a week earlier than last year, said Dan Ponchet, of Dan's Farm and Country Market in Saanichton.
"That hot spell in May really pushed things up," said Ponchet, president of the Southern Vancouver Island Direct Farm Marketing Association.
The start of strawberry season kicks off the annual migration of Victorians to the Saanich Peninsula.
At Dan's Farm, a 10-pound flat of strawberries sells for $38 and a pint for $4.95.
Local berries will get sweeter as the season progresses and they get more sunshine, Ponchet said.
He predicts this year's strawberry crop will be an average size.
There's also plenty of rhubarb, he said. Other crops coming up include lettuce, green onions and broccoli, all feeding a growing demand for locally grown produce.
Vantreight Farms in Central Saanich got an early start by raising strawberries in greenhouses.
Between 30 and 40 per cent of its 3.5 acres of greenhouse space is filled with strawberries, which began ripening in April and will produce into November, said general manager Ryan Vantreight.
"We've been rocking berries for a while now," Vantreight said. "They are so incredibly sweet. They taste like a strawberry should."
That farm also has 25 acres that are certified organic, plus another 75 acres in transition. By 2014, more than 100 acres will be certified organic, Vantreight said.
More than 40 varieties of fruits and vegetables are grown at Vantreight Farms. This year's selection includes a "rainbow" carrot that is orange, white and purple, he said.
At Oldfield Orchard and Bakery in Saanichton, farmer Raphaël Guite is one of the region's major producers of strawberries, with 330,000 plants in the ground.
The "little boost" of hot weather in May assisted berry and other crops, he said. "The fact that it didn't rain as much as last year was really helpful."
Guite's berries are sold in several local supermarkets.
Strawberry production is expected to spike Saturday, Guite said. "Because of the nice weather, I know the number of [ripe] berries will just double." He's looking for 30 to 40 more workers. A six-person team of Mexican workers is already living in a residence on the farm, staying for six months.
He is paying $3.50 per 10-pound flat, figuring a worker could earn $14 an hour. "It's really hard to find labour," he said.
Oldfield starts its you-pick for strawberries on Saturday, and is staging its first Berryfest on July 21 and 22 with a variety of events.
In addition to decent weather, crop production has been healthy due to a successful effort to combat deer and geese. Oldfield's strategy has been to plant in four-acre fenced plots in areas of high traffic. Guite said he prays every day that when he arrives at the fields, "everything is still there."
cjwilson@timescolonist.com
We thought you might also be interested in..
Notice
: Undefined index: event in
/home/viccity/public_html/v2/content.php
on line
67