Cougar kills dog in East Sooke
Jun 14 2012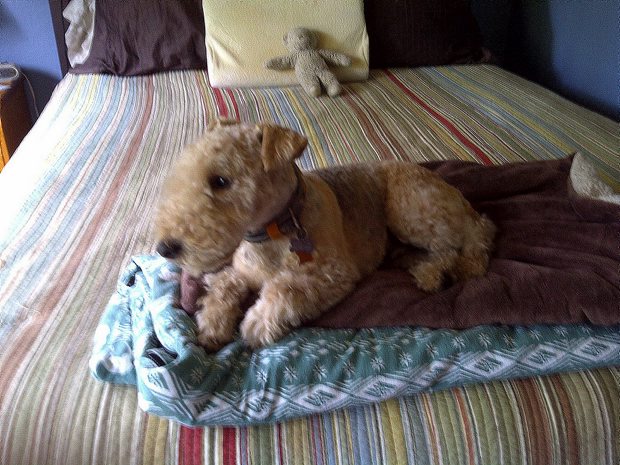 Rupert the lakeland terrier died after a cougar attack.
Photograph by:
Handout , timescolonist.com (June 2012)
An East Sooke woman is mourning her dog after it was attacked and killed by a cougar.
On Tuesday morning, Joanne Green let her two lakeland terriers outside as she normally does.
"About 15 minutes later, I heard a scream from one of the dogs," she said.
Green ran outside to see a cougar rushing into bushes on her rural property. One of her dogs, Rupert, was lying still on the grass, bleeding.
"The cat got him and shook him," Green said. "He had severe brain trauma and there were puncture wounds."
She rushed the dog to the Glenview Animal Hospital.
"They got him somewhat stabilized and we transferred him to the central hospital," Green said.
Rupert spent the night at the Central Victoria Veterinary Hospital, but died Wednesday morning.
Conservation officers attempted to track the cougar with the help of dogs, but were unsuccessful.
The Conservation Officer Service is no longer searching for the cougar as tracking dogs would not be able to find a scent.
"[The conservation officers] basically said they couldn't go back unless they got another call of another sighting," Green said.
She said she was not aware there was a cougar in the area.
"I heard that some of my neighbours knew, but there were no signs up, nothing."
On June 1, the Times Colonist reported the sighting of two cougars outside a Sooke bed and breakfast. The animals, which may have been suffering from distemper, were tracked and shot.
Green is at home with her other lakeland terrier, Chester, and her thoughts remain on Rupert. "He was just the coolest little dog anyone could ever want to have."
Cougar sightings can be reported to the Conservation Officer Service at 1-877-952-7277.
cclancy@timescolonist.com
We thought you might also be interested in..
Notice
: Undefined index: event in
/home/viccity/public_html/v2/content.php
on line
67