From stuck in the mud back to the skies
Jun 14 2012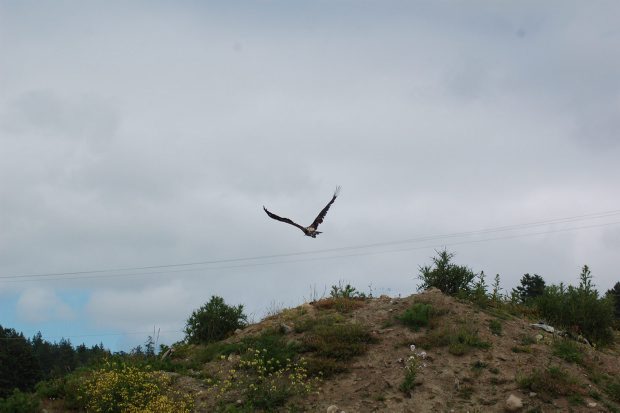 A juvenille eagle takes off after being released at the B.C. SPCA's Wild Animal Rehabilitation Centre on Wednesday. The young bird was taken to the centre after becoming trapped in thick mud.
Photograph by:
Wild Arc , timescolonist.com (June 2012)
A juvenile bald eagle is soaring again after being freed from five pounds of mud.
On June 4, a member of the public brought the eagle to the B.C. SPCA's Wild Animal Rehabilitation Centre.
The bird had landed on a dead deer that was also stuck in the thick, clay-like mud, said Wild ARC's Christina Carrieres.
"The eagle couldn't take off," she said.
The bird was found near Sooke and Edward Milne roads. He has no white feathers, indicating that he's a young bird, most likely two or three years old.
"It was very easy to rinse the mud off," Carrieres said. "Immediately, we gave him a bath because he was so cold. He was exhausted."
For the days following his rescue, the eagle was cared for in an indoor enclosure.
"He started eating after a couple of days," Carrieres said.
"He's very well and definitely ready to go."
The eagle was released Wednesday afternoon. He was brought to an open space near where it was found so he could figure out where to go, Carrieres said, and was reunited with his family, which includes one juvenile bird and two adults.
"It was beautiful," Carrieres said. "He took off quickly and had a really strong flight."
The person who rescued the bird returned to the scene to pull the deer out of the mud - an effort to prevent other animals from getting trapped, Carrieres said.
The eagle was one of 200 animals in care at the Wild ARC. So far this year, the organization has rescued more than 900 animals.
About 80 per cent of the rescues brought to the centre are birds.
A pelican that was rescued in Prince Rupert has been in rehabilitation since April 2, and is awaiting release on Friday or Saturday.
"He was being pecked by crows and suffered some injuries," Carrieres said. "He was underweight, totally emaciated.
He was suffering from infection and an overload of parasites."
On top of all that, the pelican suffered frostbite due to flying so far north, something that's uncommon, Carrieres said.
"He's lost some areas of his webbed feet," she said.
The bird will be released at Race Rocks Ecological Reserve as soon as transport is organized.
"His weight is back to normal," Carrieres said. "He's recovered."
With so many birds to care for, the Wild ARC is in need of supplies, mainly berries.
"We're struggling to feed our birds, so if the public has any extra edible berries, we'd appreciate it," Carrieres said.
cclancy@timescolonist.com
We thought you might also be interested in..