Parents mobilize against Langford strip bar
Jun 14 2012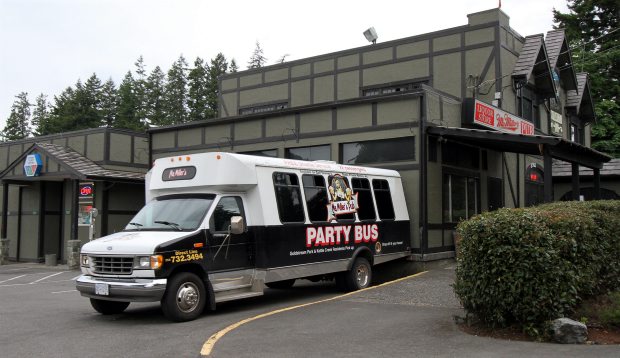 At Ma Miller's Pub in Langford, owner Dale Stephenson says the neighbourhood is not supporting the business so he has to try new ways to make money.
Photograph by:
Bruce Stotesbury , timescolonist.com (June 2012)
The imminent launch of exotic dancers at a Langford pub has parents in the quiet Goldstream neighbourhood concerned about the type of people the new business could attract.
Ma Miller's Pub owner Dale Stephenson said Wednesday he is moving ahead with plans to introduce strippers at his Sooke Lake Road bar, which has struggled financially since he took over about a year ago.
Residents in the area fear that the dancers, scheduled to start next Wednesday, will attract disruptive crowds and increase the risk of drunk driving.
"I'm concerned about the type of people it's going to bring around the school," said Shannon Ayerst, who picked up her son from Willway Elementary School, a five-minute walk from the pub, on Wednesday.
"It's a family neighbourhood, that's why we live here."
Stephenson said he has taken appropriate safety precautions, including having security guards in the parking lot and scheduled shuttle buses for patrons.
"I'm keeping this as tidy as I can. There will be no difference from what's going on as it is," he said.
"It's not going to change anything. They're not going to be dancing outside people's houses."
Parents read about the dancers in Tuesday's Times Colonist and immediately set out to organize their opposition.
They created an online petition - which had more than 100 signatures by Wednesday night - and they have contacted Langford council, but there is little they can do to stop it.
Coun. Lillian Szpak said the city's "hands are tied. This is a permitted use under the licence."
Even if council was to change the zoning, the permitted uses would be grandfathered and would still be legal.
"Personally, I think it's a total misfit in a beautiful neighbourhood, in an established pub that has been a destination for generations," Szpak said.
"It doesn't reflect what we would choose today if it came before council for a development proposal."
Stephenson said he invested heavily to renovate the building when he took over the pub, but the neighbourhood has not supported the business, so now he is forced to attract customers any way he can.
"I've reached out to this community, but nothing has worked," he said.
Neighbourhood resident Nicole Cameron dreads having to explain to her children what a strip bar is when they walk by.
"My kids can read and they're going to be reading about the live shows on the weekend," she said.
"A family neighbourhood is not the spot for that type of business."
Cathy Maxwell, who was at Willway Elementary School to pick up her grandchildren on Wednesday, suggested turning the bar into a family-oriented establishment.
"I know it costs money and it's a huge change, but this isn't going to work," she said.
"And the parents are the last ones to find out. No, that's not right."
dspalding@timescolonist.com
We thought you might also be interested in..
Notice
: Undefined index: event in
/home/viccity/public_html/v2/content.php
on line
67