Shoeshiner's polished presentation to council
Jun 15 2012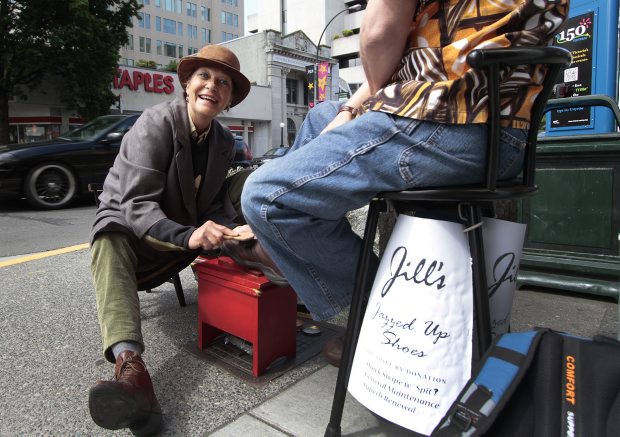 Jill Goodson wants to shine shoes on downtown streets with Victoria's blessing.
Photograph by:
Lyle Stafford , timescolonist.com (June 2012)
Jill Goodson still has a glimmer of hope for her fledgling downtown shoeshine business.
Goodson, 56, approached Victoria council with an idea to set up a portable shoeshine stand on a downtown sidewalk, an enterprise she wants to call Jill's Jazzed Up Shoes. Her plan was to charge by donation.
But Goodson, who has been out of work for 10 months and lives on a disability income, ran into a regulatory roadblock.
She was told that she doesn't qualify for a $25 busker permit, and the city does not issue business licences for public property.
Only a few Government Street food carts that have been operating for some time have been "grandfathered" to allow them to set up in sidewalk areas.
Some councillors expressed interest in revamping street-vendor regulations when Goodson's situation was discussed earlier this month.
As it stands, Goodson can't qualify as a busker because she has to be providing entertainment, according to Rob Woodland, the city director of legislative and regulatory services. She is also prevented from selling a product or service.
Still, Goodson had a distinct air of optimism as she addressed council at Thursday night's meeting to reiterate her desire to shine shoes downtown.
"It's about shoeshining," she told council. "It's about a beneficial thing to the history of Victoria."
Fifty years ago, shoeshiners were a common sight in the city centre, Goodson said.
"I'm here to kind of reinvent it, with a twist."
People have been telling her they like the idea, she said. "I wouldn't be here if it weren't for the public support I have been getting."
Goodson said a solution is that she be reassessed as an entertainer and given a busker's licence.
"I'm asking the city - to at least give me a probationary chance."
She said she appreciates that the city doesn't want to open "a can of worms," but feels that each case can be looked at on its own merits.
Further discussion of the matter has yet to be scheduled.
jwbell@timescolonist.com
We thought you might also be interested in..