$100 million mixed-used project proposed for area near Victoria General
Jun 15 2012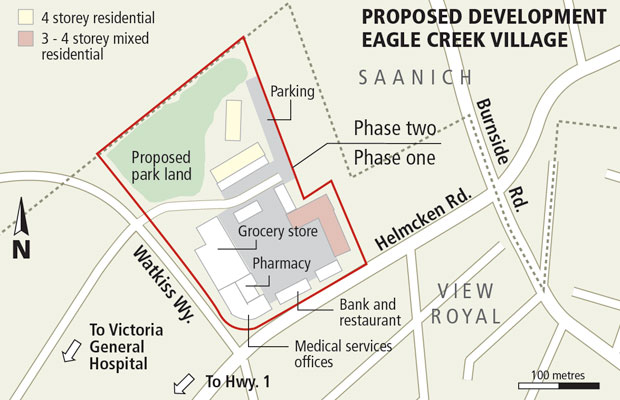 The developer wants to begin construction next spring at the 5.8-hectare site located at the intersection of Helmcken Road and Watkiss Way in View Royal.
Photograph by:
Times Colonist , timescolonist.com (June 2012)
A development proposed for the West Shore could fill a void for health care workers at Victoria General Hospital, say proponents of the project.
Plans for the two-phase $100-million mixed-use development include medical services offices, retail shopping centres and homes for people working in the area.
The developer, Omicron - which has offices in Victoria and Calgary - wants to begin construction next spring at the 5.8-hectare site located at the intersection of Helmcken Road and Watkiss Way in View Royal.
When completed, the development could include seven buildings offering 112,000 square feet of retail, 69,000 square feet of medical and professional offices and 138 residential units, according to plans submitted to the municipality.
"We think the Victoria area is under-serviced when it comes to medical services," said Peter Laughlin, Omicron's Vancouver Island director.
"[VGH] is the largest hospital in southern Vancouver Island and there are no services for it whatsoever. You can't even get a cup of coffee."
If approved by the city, the developer would transform five properties into one comprehensive site.
Plans call for a mix of single-storey and fourstorey buildings, with more than a hectare of the property dedicated to park land.
Retail options include a grocery store, a pharmacy, a liquor store, a restaurant and general retail. Office space would be targeted at family physicians, health clinics, dentists, physiotherapists and financial services.
Amenities for the community have not been determined yet, but discussions have involved park area and a wildlife viewing platform, in addition to sidewalk and traffic-flow improvements.
View Royal council anticipates little difficulty getting rezoning approval in time for the scheduled spring start date.
Mayor Graham Hill said his council encourages the development and will provide support to help meet the deadline.
"The hospital precinct is the site of the largest single employer in the community," he said.
"This project has the potential to provide services to the hospital, to the residents in that area as well as provide homes for people who work in the area."
Laughlin also expects a need to cater to an anticipated increase in the West Shore population.
"There's the new Seaspan contract, a huge retirement wave coming and Victoria has a comparatively low unemployment rate," he said.
The first phase of the project is expected to take 18 to 24 months and will include most of the commercial and office space, as well as about 60 residential units, Laughlin said.
Phase two will take another 18 months and include the remaining residential units. dspalding@timescolonist.com
We thought you might also be interested in..