Taking health into their own hands
Jun 15 2012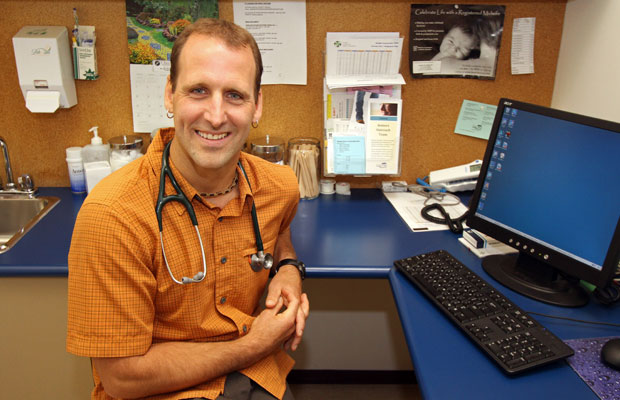 Dr. Mark Sherman has been involved with the Victoria Community Health Co-operative since it launched in 2008. The community-owned health organization is being recognized today with the Distinguished Co-op award.
Photograph by:
Bruce Stotesbury , timescolonist.com (June 2012)
Co-operatives aren't a new concept, but they're seldom associated with health care delivery, says Dr. Mark Sherman.
That could change, as Sherman's group, the Victoria Community Health Co-operative, receives the Distinguished Co-op award today from the B.C. Co-operative Association, an umbrella organization that works on behalf of co-ops and credit unions.
The concept of a health co-op is simple, Sherman said, and the organization is receiving the award for operating exactly the way a co-operative should: health care priorities are set by community members who each carry an equal vote and have their say at general meetings.
But Sherman said the Victoria Community Health Co-op wasn't seeking recognition. "We're so passionate to deliver the service," he said.
Sherman was part of the group that started the co-op, which launched in 2008.
"One of the impetuses for me was that I felt for practitioners, there's a sense of disempowerment in health care," Sherman said, adding that he wanted individuals to take responsibility for their own health.
The Victoria co-op provides care to approximately 3,500 patients through a James Bay medical centre that opened in September 2010.
With family physicians, a midwife and a naturopath, plus various other medical personnel, the centre offers an integrated approach to medicine. Patients are cross-referred to doctors depending on their needs.
Community outreach programs have also been a focus of the co-op.
Health co-ops are costeffective, Sherman said, with funds coming from a combination of grants and government support.
Preventive medicine, including education about diet and exercise, help reduce health-care costs in the long run, he said, adding that the co-op structure has positive health repercussions.
"Studies show reduced prescription drug use, reduced emergency room visits, reduced doctors' visits," he said.
In the co-op system, people teach themselves about their own ailments.
"A group of people with diabetes, for example, will get together and determine what resources they need to educate themselves," Sherman said, adding that they may ask for advice from a nutritionist or doctor. "They determine their own objectives."
Vanessa Hammond is vice-president of the Victoria Community Health Co-operative and has been part of the organization since its genesis, which was spurred when the community heard a local health clinic was under threat of closing.
"We had a members meeting," Hammond said. "We rented that space and started the co-op."
The award is the result of an immense amount of work since then, she said.
"It's been a real effort on the part of everyone to keep it viable," she said. "There were times when we felt so tired."
There are eight other health co-ops in B.C., each tailored to its community.
"The work of every health co-op is defined by the needs and the capabilities of its members," Hammond said.
"Another definition for health co-op should be people who can pull miracles out of hats."
cclancy@timescolonist.com
We thought you might also be interested in..