Harbour properties added to Ottawa's for-sale list
Jun 15 2012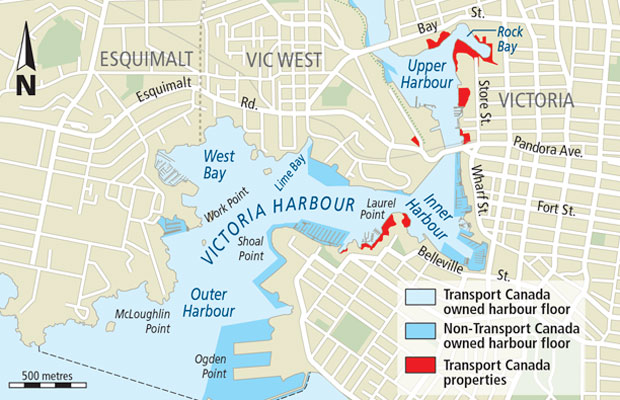 Twelve pieces of property are being eyed for sale or transfer by Transport Canada.
Photograph by:
Times Colonist , timescolonist.com (June 2012)
Prime real estate in downtown Victoria is up for sale as the federal government continues to get rid of extra land along the city's Inner Harbour.
Twelve pieces of property are being eyed for sale or transfer by Transport Canada, including park space near the Inn at Laurel Point Hotel, an old coast guard building near the Johnson Street Bridge and waterfront lots around the Upper Harbour.
"Transport Canada is committed to divesting all of the department's properties in Victoria Harbour into local hands," said spokeswoman Sau Sau Liu in a statement.
Ottawa has sold or transferred 90 per cent of the land it once owned in Victoria's harbour in the past 10 years, she said. It is now in "stage three" of its divestiture program.
Last week, Transport Canada announced a $2.8-million deal with the Esquimalt and Songhees First Nations to sell 1.71 hectares of waterfront land in Rock Bay. The sale is to be finalized by 2016, after the federal government finishes clean up of the contaminated site.
And Ottawa also sold waterfront land behind the Janion Hotel to a Vancouver developer who recently bought the historic but dilapidated building from a Victoria resident for $2.49 million.
In total, the remaining federal land covers roughly 2.5 hectares in 12 lots.
One of the most visible properties is the city-run Laurel Point Park and pond in front of the Inn at Laurel Point Hotel, near Montreal and Quebec streets.
Transport Canada also owns multiple walkways, paths and harbour-front lots in and around the nearby dock facilities.
Laurel Point general manager Ian Powell said he has always been led to believe the federal government would divest the land to the Greater Victoria Harbour Authority or the city.
It's important to the hotel to see it preserved as a park space, he said.
"Nobody has ever spoke to us about it being sold commercially," Powell said.
There isn't even access to the park site without going through hotel-owned property, because of the lot's shape, he said.
The land is zoned for park use. The City of Victoria said it had not been part of any discussions on the property.
Transport Canada wants to sell the park land, but isn't currently negotiating with anyone because it is still reviewing its clean-up options for contamination at the site, said Liu.
Meanwhile, Transport Canada has hired local company Pemberton Holmes to sell property at 202 Harbour Rd., near the Dockside Green development on the Vic West side of the Johnson Street Bridge.
The 26,000-square-foot property, the site of two former coast guard buildings, is listed at $2.29 million and billed as "prime for redevelopment."
Ottawa is also negotiating an agreement to transfer ownership of fill land at Turner Street East, near the existing crushed rock and gravel companies. It's not clear who is negotiating to obtain the land.
Transport Canada said it is contacting other property owners near its remaining federal land in the harbour - including waterfront fill lots behind Capital Iron, and at the ends of Swift and Fisgard streets - "to determine their interest in acquiring those properties."
rshaw@timescolonist.com
We thought you might also be interested in..