Jail time for ex-bureaucrat convicted of fraud, forgery
Jun 16 2012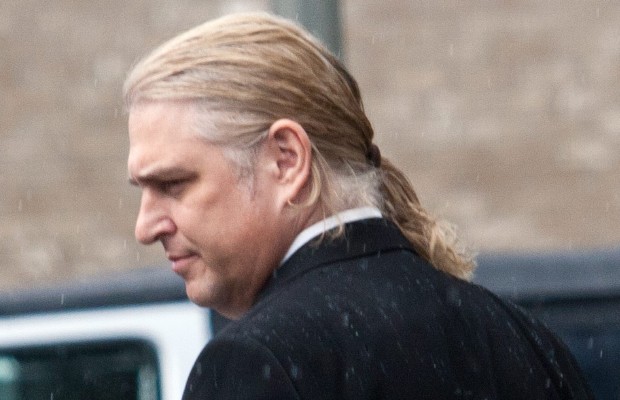 Former government employee Richard Wainwright leaves court in October 2011.
Photograph by:
Darren Stone , timescolonist.com (June 2012)
A former supervisor in the Ministry of Children and Family Development has been sentenced to one year in jail for forging his criminal record check to land a government job.
Last month, Richard Ernest Wainwright was convicted of fraud and forgery for altering his 2006 criminal record check form to hide his criminal record, then working in a position of trust for the B.C. government for three years.
On Friday, Victoria provincial court Judge Loretta Chaperon sentenced Wainwright to 12 months in jail followed by 24 months of probation with special terms of supervision for his "egregious breach of trust."
A conditional sentence in this case would be inappropriate, Chaperon said. "Deterrence, in my view, requires real jail."
The judge did not order Wainwright to pay the government $137,238.92 in compensation for the salary and benefits he earned during his employment, as requested by the Crown. Although Wainwright obtained his job fraudulently, he performed his job well, she noted.
Wainwright, who appears to be in his 40s, knew having a criminal record would bar him from being hired, Chaperon said. He used two different names to escape his criminal record. He applied for a criminal record check under the surname Perran, for which he also had a social insurance number, passport and driver's licence.
He then altered the form to read Richard Ernest Wainwright-Perran and submitted it to the government. Eventually, his two driver's licences, bearing different names, were flagged by the Insurance Corporation of B.C.'s facialrecognition technology.
Wainwright was arrested inside a government office in April 2009, but kept his job until October while the government tried to get information about the case from police. He was then fired.
Chaperon found as an aggravating factor that the breach of trust went on for a considerable length of time and only ended when his deceit was discovered by ICBC. She also found he had access to the private information of many of the government's most vulnerable clients.
Chaperon said Wainwright's conduct in committing the offences was calculated and sophisticated. She found it very relevant that he began falsifying his criminal record check while he was still serving a conditional sentence for theft, counterfeit and forgery convictions from Kamloops.
She found as mitigating factors Wainwright's expression of remorse, his volunteer work and his educational studies. Chaperon also noted Wainwright did not make use of any of the government clients' private information.
The special conditions of his probation include not possessing any identification card or documents, or banking card or document in any name other than Richard Ernest Wainwright.
Wainwright is not to possess any personal information in any name but Richard Ernest Wainwright in written, electronic or digital signatures, social insurance number, driver's licence, birth certificate, Care Card, credit card, debit card or bank account numbers.
He is not to possess any equipment - such as scanners, card printers, laminators, magnetic strip encoders, embossers, blank cards or blank documents - that could be used to make or alter identification or financial documents or cards.
Wainwright is not to possess any mail or records in any name but Richard Ernest Wainwright. He is not to obtain educational degrees or certificates or professional registrations or to make employment applications in any name other than Richard Ernest Wainwright.
Chaperon ordered him to surrender all valid passports to the RCMP within 48 hours of his release from custody and not apply for any passport without the consent of his probation officer.
ldickson@timescolonist.com
We thought you might also be interested in..
Notice
: Undefined index: event in
/home/viccity/public_html/v2/content.php
on line
67