Critics slam anti-human smuggling laws
Jun 17 2012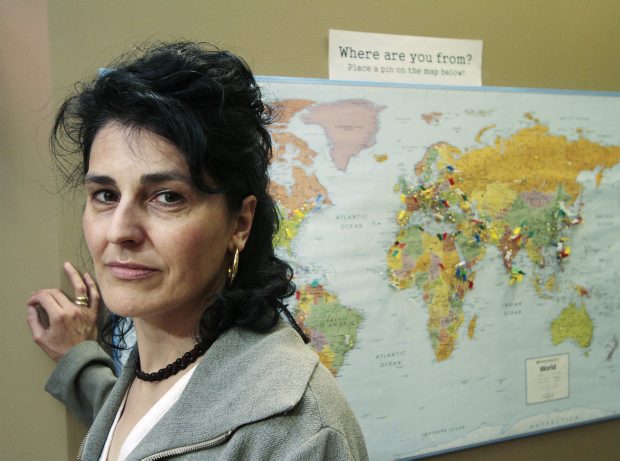 Sabine Lehr, executive director of the Victoria Immigrant and Refugee Centre Society, says the threat of mandatory detention does not deter refugees from seeking asylum.
Photograph by:
Lyle Stafford , timescolonist.com (June 2012)
Critics are railing against the tougher refugee laws passed in the House of Commons last week, saying the reforms punish refugee claimants under the guise of cracking down on human smugglers.
Some have accused Canada of mimicking Australia's iron-fisted way of dealing with asylum-seekers, despite a parliamentary report in Australia slamming the current detention practices.
"They keep telling us the only aim is to catch the smugglers," said Jinny Sims, the NDP immigration critic. "We are just punishing the refugees, the very asylum seekers who under the United Nations we have agreed to take in. We've never had such draconian legislation before."
Bill C-31, which passed a third reading Monday by a vote of 159 to 132, will see mandatory detention for asylum seekers deemed "irregular arrivals."
While many interpret that as those who come via migrant ships - as was the case with the Ocean Lady and MV Sun Sea, which arrived in Victoria in 2009 and 2010 carrying a total of 568 Tamil migrants - the minister of citizenship and immigration or public safety can apply irregular arrival designation to any group of three or more people when human smuggling is suspected.
Sims fears that could lead to arbitrary designation for many would-be refugees.
An asylum seeker's detention will be reviewed after two weeks, then every six months, addressing claims by the opposition and refugee lawyers that the originally proposed one-year detention without review would violate Charter rights.
Douglas Cannon, an immigration and refugee lawyer who represented some of the Tamil migrants on the MV Sun Sea, said Bill C-31 is an "ill-informed, political" reaction to the two mass arrivals in 2009 and 2010, even though arrival by boat makes up only two per cent of Canada's total refugee arrivals.
"The numbers were one week's worth of the total refugee claimants in Canada, yet this was presented as a national crisis," Cannon said. "The detention process that has been changed under the guise of discouraging people smuggling, I think, is entirely illegitimate. It won't stop desperate people from taking desperate measures."
The tough provisions are retroactive to the Tamil asylum seekers, meaning they could be barred from applying for permanent residency, travel documents or family reunification for five years.
Citizenship and Immigration Minister Jason Kenney has said the tough laws are required to prevent "bogus" claimants and "queue-jumpers" from abusing Canada's refugee system.
Donald Galloway, who co-chairs the Canadian Association of Refugee Lawyers' legal research committee, told the citizenship and immigration committee last month that there could be legal challenges to the harsh penalties of the "irregular arrival" designation.
"I think our reputation as a country of protection will just go down the tubes," Galloway, a law professor at the University of Victoria, said in an interview.
Sims said the current legislation already has tough penalties for human smuggling with a maximum penalty of life in prison and/or a $1-million fine. Bill C-31 adds mandatory minimum sentences.
Six people have been charged with orchestrating the operation aboard MV Sun Sea, which carried 492 passengers from Sri Lanka and arrived in Victoria on Aug. 13, 2010.
Saanich Gulf Islands MP and Green Party Leader Elizabeth May called the bill the Refugee Internment Act, saying it will cost taxpayers almost $70,000 a year per person.
While the government has said it will not detain anyone under 16, May said many children may end up in jail as staying with their parents might be better than the child welfare system. Her bid to introduce amendments, including barring the detention of anyone under 18, was unsuccessful.
For years, Australia has locked people up in detention centres on Christmas Island and other remote locations.
In March, an Australian parliamentary committee criticized the indefinite detention of asylum seekers which, in many cases, resulted in physical or psychological harm to detainees. It recommended a maximum detention of 90 days. The decision to hold any-one longer than that should be made public, the committee's report said.
Sabine Lehr, executive director of the Victoria Immigrant and Refugee Centre Society, said the Australian example shows that mandatory detention does not deter refugees from seeking asylum there.
"As detrimental as this [detention] is going to be to their settlement here in Canada, to their integration into society, to their mental health situation - which is likely already compromised because of what they're going through back home - at the end of the day, it's still better than what they're fleeing from," Lehr said.
The bill now goes to a vote in the Senate.
FATE OF PASSENGERS
According to the Immigration and Refugee Board, of the 492 passengers aboard the MV Sun Sea, seven have been accepted as refugees, seven have been rejected, 20 have been ordered deported and 19 refugee claims have been withdrawn.
Of the 76 passengers on the Ocean Lady, two have been accepted as refugees, two rejected and one has been ordered deported.
- Times Colonist
kderosa@timescolonist.com
We thought you might also be interested in..
Notice
: Undefined index: event in
/home/viccity/public_html/v2/content.php
on line
67