Victoria family have their own hero who walked across Niagara River
Jun 17 2012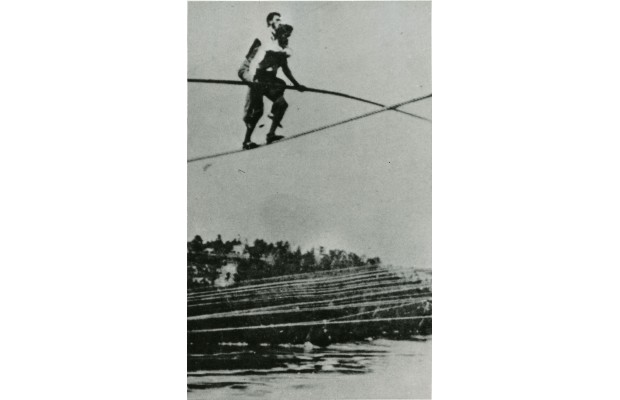 Charles Blondin, born Jean Francois Gravelet and known as Blondin the Great, first crossed the Niagara River on a tightrope in 1859.
Photograph by:
Times Colonist File Photo , timescolonist.com (June 2012)
When a Victoria-area family watched Nik Wallenda's tightrope walk over Niagara Falls on Friday, all they could think of was a man who completed a similar feat 153 years ago.
Charles Blondin, born Jean Francois Gravelet, has been a topic of conversation in Arleen Barron's family for decades.
Blondin, a daredevil tightrope walker, crossed the Niagara River for the first time in 1859, just downstream from the Horseshoe Falls where Wallenda crossed.
"It's my grandmother's grandfather," Barron said. She says her grandmother, Beatrice Gravelet, shared Blondin's tales with her.
"I was with my grandmother quite a bit," Barron said, "and she would tell me all these stories of Blondin the Great."
Blondin's walks across the Niagara River were a spectacle.
He crossed the river blindfolded, and carrying a man on his back. He even stopped once to cook an omelette mid-walk, serving it to passengers on the Maid of the Mist boat.
Barron's daughter, Linda Seabrook, an East Sooke resident, was dismayed to hear no mention of Blondin or other tightrope walkers during media coverage of Wallenda's crossing.
"I still think Blondin was the first to cross Niagara Falls. It's a technicality that he did it in a different spot - he still did it," Seabrook said. "I'm surprised they didn't mention anything about Blondin, you know some kind of tribute to someone who did it 153 years ago."
Seabrook visited Blondin's grave in England in 2005. The daredevil is buried in Kensal Green Cemetary, west of London.
"He's got this huge mausoleum. He's right with Freddie Mercury," Seabrook said with a laugh.
mkaralis@timescolonist.com
We thought you might also be interested in..