Good neighbours: After decades of work, school's out
Jun 17 2012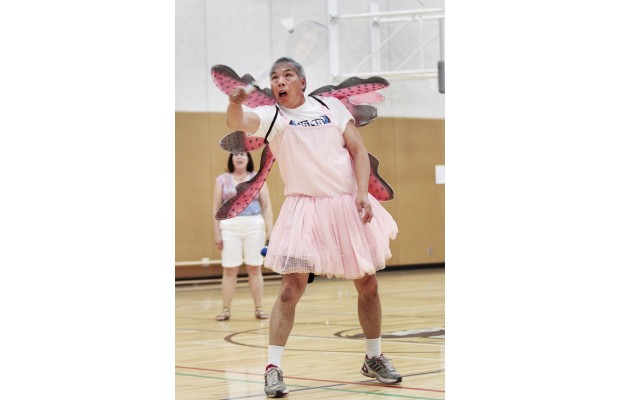 Principal Keray Wing is retiring from North Saanich Middle School.
Photograph by:
Lyle Stafford , timescolonist.com (June 2012)
School's out this month for two longtime educators who are moving into retirement after remarkable careers.
Both Vic High teacher Gillian Hawkins and North Saanich Middle School principal Keray Wing have a special place in their school communities.
Hawkins' retirement punctuates 45 years as a physical-education teacher and field-hockey coach. She was an accomplished player herself, having played on the national team, and mentored a number of players who went on to play for her old team.
Her tenure included stints at Oak Bay Secondary and Central Junior, as well as her latest stop at Vic High. Her coaching success at Oak Bay earned her a spot in the school's sports hall of fame.
Vic High principal Randi Falls said Hawkins - fondly known as Hawk - has been a huge part of the Fernwood institution during her decade there.
"She's one of those teachers that makes real bonds with the kids," Falls said.
Hawkins also has a knack for encouraging students who are reluctant about exercise to get involved in physical activity, she said.
For her part, the English-born Hawkins said she has had the good fortune of being able to do a job she loves.
"There have been many times when I've said I've got the best job in the world."
After so many years as a teacher, she said it will be tough to leave: "It's like you're almost severing the umbilical cord."
Wing is calling it a career after 34 years, an impressive stretch that started in Terrace. He continued teaching in northern B.C. centres for a dozen years before arriving in Victoria in 1988 to open the band-operated tribal school on West Saanich Road.
Wing moved to the Saanich school district in 1990 and began working with the alternate-learning program. He became a viceprincipal at Royal Oak Middle School and then Bayside Middle School, before returning to Royal Oak as principal.
Wing took over as principal at North Saanich Middle School in 2002. He said it was part of the overall plan for him to stay on until the new school opened - which it did, in May.
Wing said he is heading into retirement with mixed emotions.
"You miss the kids, you miss the staff, you miss the parents."
ROTARY CLUBS LEND SCHOOLS A HAND
Local Rotary clubs have been busy on the education front.
The Rotary Club of Oak Bay paid a recent visit to George Jay Elementary to present funds for a smartboard at the Quadra Street school. A total of $4,500 was given, including $3,500 directly from the club and $1,000 through the Thrifty Foods Smile Card program.
The Rotary Club of Saanich made a similar gesture at Craigflower Elementary, providing the school with a smartboard along with money to purchase culturally relevant books for its largely First Nations student population. The books are being acquired through Orca Publishing and a literacy program created by Lt.-Gov. Steven Point, who spoke at a recent club meeting.
The Saanich Rotarians have also stepped up to "adopt" the school, meaning they will serve as "reading buddies," teach students chess and checkers, and help with the breakfast program.
ELDER AWARDS BACK AFTER ONE-YEAR BREAK
The University of Victoria's Valued Elder Recognition Award program, known as VERA, is back after a one-year hiatus.
UVic's Centre on Aging oversees the awards, which were first given out in 2000. During its year off, the program was reviewed and a streamlined nomination process was created.
The main criteria for nominees is that they must have made a notable volunteer contribution in the Capital Regional District over the course of 10 years. Three letters of support must be part of the nomination package.
The awards will be presented on Oct. 1, the United Nations International Day of Older Persons.
The nomination deadline is June 29. Nomination packages are available at www.coag.uvic.ca or at volunteer agencies.
ACTIVITY CENTRE HOSTING BOTTLE DRIVE
Volunteers from the James Bay New Horizons Centre are holding a bottle drive on Saturday.
They will be canvassing the area from 9 a.m.-3 p.m. The public is also encouraged to drop off bottles at 234 Menzies St., and further arrangements for pickup can be made by calling 250-386-3035.
All of the proceeds will go to the centre - operated by a not-for-profit society - and its programs geared toward older adults. Wallace Driving School will be providing vehicles to help with collection efforts.
FUNDRAISER BENEFITS BABY WITH CANCER
Friends of Michelle and Rafael Fuentes are rallying around the couple as they deal with a leukemia diagnosis for their baby daughter, Madrona.
The one-year-old is being treated at B.C. Children's Hospital and Michelle is staying with her.
The uncertainty of the situation is hard on the family, and has the potential to make a significant financial impact.
A fundraising event that includes a silent auction is being held Thursday from 6 to 9 p.m. at Jack's Place on Bear Mountain, and a similar gathering is set for June 29 at the Old Station Pub in Nanaimo. Friends will also be collecting donations at a Saturday run, called Miles for Madrona, starting at 8 a.m. from Frontrunners on Vancouver Street.
jwbell@timescolonist.com
We thought you might also be interested in..
Notice
: Undefined index: event in
/home/viccity/public_html/v2/content.php
on line
67