Victoria beefs up dog leash-law enforcement
Jun 19 2012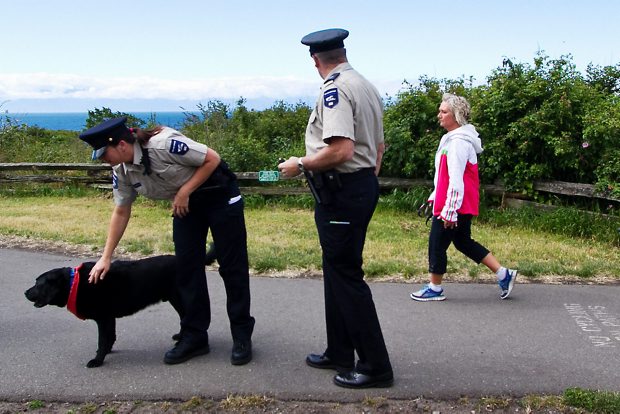 Bylaw-enforcement officers Mia Frankl, left, and Mark Hayden keep an eye on dogs in the Dallas Road off-leash area.
Photograph by:
Darren Stone , timescolonist.com
The City of Victoria is stepping up enforcement of off-leash-dog rules on the Dallas Road waterfront over the next few months, but it's aiming to dispense education, not tickets.
"We've just implemented a new program with our animal-enforcement contractor to see more hours of enforcement," said David Speed, the city's assistant director of parks. "What we're really going to focus on is evenings and weekends, when the park is really busy."
Of 30 encounters with dog owners in the trial project's initial stages, only two have led to tickets.
The Dallas Road off-leash area — bounded by Douglas Street and Clover Point — is the primary area of focus, but officials will also be homing in on the rest of Beacon Hill Park, which is an on-leash zone, and Ross Bay Cemetery, where no dogs are allowed.
The hugely popular off-leash area below Dallas Road can look like a doggie freeway at peak times, but it's also favoured by walkers, joggers and tourists.
Speed said the zone generates complaints about the impact of the sheer number of dogs. "We still think it's a multi-use area. We still think that dogs can exist with runners or people out walking with their grandma on a Sunday at the same time."
But there are serious incidents where people get knocked over, dogs fight with other dogs or dogs attack wildlife. Speed said the hope is that keeping people informed about what's permitted will go a long way toward improving things for everybody.
"We've turned over one of our best-use areas here for dogs. Owners need to follow the rules, and we need to manage the conflict that happens."
Ian Fraser of Victoria Animal Control Services, which contracts to Victoria, Oak Bay and Esquimalt, emphasizes it's an off-leash area, not a dog park. "There's going to be lots of other folks down here without dogs and enjoying the park, as well.
"Come down here and enjoy the space, but know you've got some responsibilities."
Basic dog-ownership rules apply — dogs must have a licence attached to their collars, their waste must be picked up and they must be under control.
"If you can't see your dog, arguably you don't have control of it," Fraser said. "If your dog doesn't [come] on or before the third call, arguably you don't have control."
Fines for not complying with the rules can range from $100 to $300.
The city has a total of
12 off-leash areas, most with time or seasonal restrictions. All are monitored through the city's Paws in Parks program, which has been in place since 2005.
jwbell@timescolonist.com
We thought you might also be interested in..