Lineups grow as Costco gas drops to $1.029
Jun 19 2012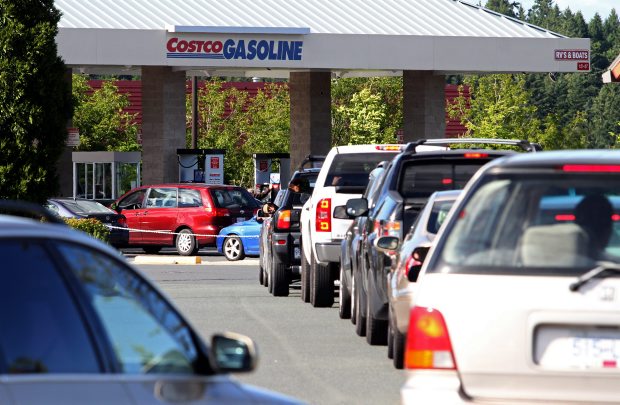 Motorists line up to buy gas at Cosco at $1.029 a litre.
Photograph by:
Bruce Stotesbury , timescolonist.com
Lineups at the Costco gas pumps in Langford stretched throughout the parking lot on Monday, as drivers took advantage of another drop in prices.
The Costco gas station posted regular fuel at $1.029 per litre when it opened in the morning.
The drop was even lower than on the weekend, when the company slashed prices to just $1.119 a litre, well below the $1.399 seen elsewhere in the region.
Langford resident Joe Lumb, who was taking advantage of the lower prices on Monday, said he regularly fills up at Costco and was looking forward to teasing other people about how cheap his gas was.
"It's just fun to tell everybody," he said. "Especially the people in Vancouver."
Costco staff did not respond to requests for interviews regarding the recent drop in prices.
This is the second weekend in a row that Costco has lowered its gas prices. By Saturday, its closest competitors, Chevron and Esso, had matched the low price.
Not everyone was interested in joining the Costco lineup. Murray Schleining of Langford said the wait would be too long for the savings involved. "It's not worth my time," he said. "You could be there waiting for half an hour."
Instead, he bought gas at the nearby Millstream Co-op gas station — which dropped its price to 117.9 — on Saturday night.
Susan Schmidt, who also lives in Langford, took advantage of the weekend's low gas prices, which she suspects might have been responsible for increased traffic congestion in the area. "At 4:30 p.m., the traffic going out of Langford was crazy, like it was 7:30 in the morning," she said.
Websites tracking fuel prices reported Monday that four gas stations within a kilometre of Costco had posted prices of $1.239.
We thought you might also be interested in..
Notice
: Undefined index: event in
/home/viccity/public_html/v2/content.php
on line
67