Residents of Oak Bay air views on care home plan
Jun 20 2012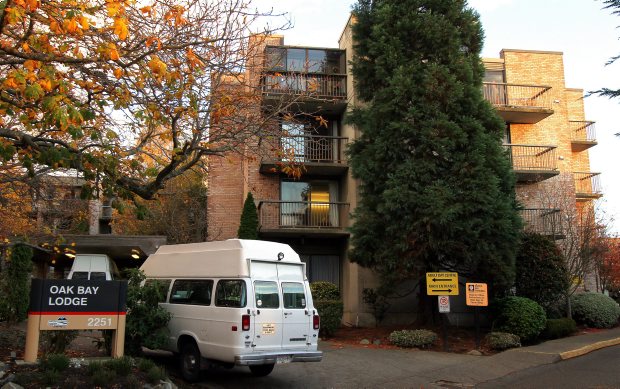 Baptist Housing is working with the Vancouver Island Health Authority to demolish the 150-bed Oak Bay Lodge and replace it with a 320-bed facility.
Photograph by:
Bruce Stotesbury , timescolonist.com (June 2012)
Almost 200 people packed Monterey Recreation Centre Tuesday night to give their input on a proposed seniors care home that will replace Oak Bay Lodge, an issue that has proved extremely divisive in the community.
Howard Johnson, CEO of Baptist Housing - which is working for the Vancouver Island Health Authority to demolish the 150-bed lodge at 2251 Cadboro Bay Rd. and replace it with a 320-bed facility - presented amendments made in a bid to make the plan more palatable for opponents.
They include reducing the height of much of the building in the outlying areas from six storeys to five and moving the building farther from the property line. Johnson said there would be one parking stall per three beds, which, he said, is in line with other regional hospitals or care homes.
It is in the community's interest to replace the only extended care home in Oak Bay, Johnson said. The facility would service Greater Victoria seniors with dementia who require complex care.
Oak Bay council rejected the proposed $80-million redevelopment in November, sparking an extensive public consultation project that included online surveys, community round tables and Tuesday's public meeting.
One Oak Bay resident concerned about parking and traffic congestion named several seniors homes in the region with a better ratio of parking spots to beds. Some of those facilities still see overflow parking onto the streets, Michael Donald said.
Several residents were concerned by the size of the development, which, they said, would be twice the size of the Oak Bay Beach hotel.
As a comparison, Donald said the Costco building is more than 133,000 square feet, while the proposed development would be more than 228,000 square feet.
"We have a massive redevelopment and it's being treated as a minor bylaw amendment," said Oak Bay resident Paul Merner. He called the plan the "Walmartization" of the community.
Merner said the $80 million redevelopment flies in the face of the Oak Bay community plan which aims to preserve the residential character of Oak Bay with low-profile buildings that preserve natural green space.
Joe Kloirance, an Oak Bay resident in favour of the project, said given the aging population, a larger facility for seniors with dementia is crucial for Oak Bay.
Kloirance said the campaign against the new facility is being waged by a small but vocal group of residents who "wish to freeze Oak Bay in time so that nothing changes."
The consultant will present its report to council at the end of the month.
kderosa@timescolonist.com
We thought you might also be interested in..