Lady Justice is going to the wall
Jun 20 2012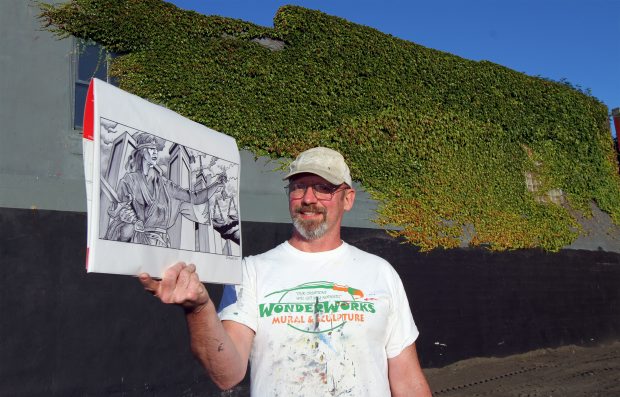 Artist Steve Milroy holds a drawing of Lady Justice that will form a mural for the brick wall behind him.
Photograph by:
Bruce Stotesbury , timescolonist.com (June 2012)
A red brick wall in an area of downtown known for illegal activity and drug use will be transformed into a vibrant mural of Lady Justice, using artists who know well the revolving door of the courts system.
The 30-foot-by-16-foot mural will be a mosaic of 120 square panels, some painted by clients of the Victoria Integrated Court, which caters to repeat offenders, recovering addicts or people struggling with mental illness who are working with community teams to turn their life around.
The mural will be on the west-facing wall of the Chris LeFevre & Co. building at 533 Chatham St., just a block away from the Swift House supportive housing units and the former Street Link shelter.
Members of the community can purchase a panel for $50 to paint themselves or donate to a client of the court to paint.
It's that concept of a shared art project that makes people who are often isolated and marginalized feel like they are part of something collaborative, said Ken Kelly, general manager of the Downtown Victoria Business Association.
Brenda Edwards, a provincial judicial justice involved with the project, said there are benefits for those involved with the courts and the wider community.
"I think the individuals that are involved in integrated court and perform community work service are going to benefit from the mural because they're going to get to see something that they've given back to the community, visibly portrayed for other people to admire," Edwards said.
"But I think there's a lot of benefit for the community itself. Right now, that area of town is an area that is often known for the wrong reason. I think this is going to draw people to that area for the right reason."
Provincial court judges Ernie Quantz and Adrian Brooks, and Crown prosecutor Christine Lowe are on the planning committee for the mural and have been heavily involved in the integrated court, which has seen 180 people since it was created in March 2010.
The court takes referrals from the Vancouver Island Health Authority's Assertive Community Treatment teams, which bring together police, social workers and parole officers to facilitate release plans.
It then hands out a sentence tailored to the individual and their challenges, instead of just sending them to jail.
The amateur artists will be working with Wonderworks artist Steve Milroy, who will make the panels cohesive enough to create the image of Lady Justice, yet unique enough that the distinct design in each square can be seen clearly.
"I want to be able to come to a middle ground so they can take people down [to the mural] and say, 'That's my panel' - and feel that it's their artwork," Milroy said.
The planning committee is trying to raise $18,000 by mid-July and is halfway there thanks to a $4,000 donation from the Downtown Victoria Business Association and thousands more from private donors. Milroy has also donated $2,000 worth of his services.
Anyone interested in making a donation can pick up a donor form at the Downtown Victoria Business Association in Centennial Square or contact Ken Kelly at ken@downtownvictoria.ca.
kderosa@timescolonist.com
We thought you might also be interested in..
Notice
: Undefined index: event in
/home/viccity/public_html/v2/content.php
on line
67