Langford spares homes, plans to profit
Jun 21 2012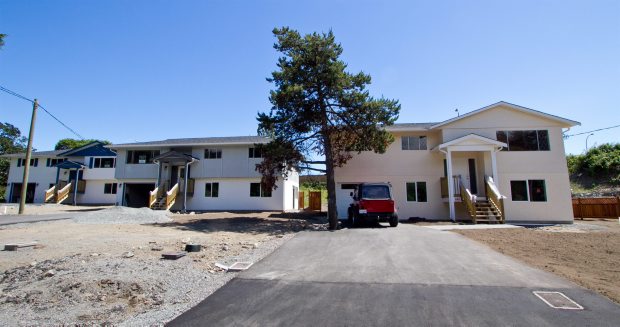 Houses moved from the site of the Leigh Road interchange sit on 5,500-square-foot lots along the end of Brock Avenue, near the Trans-Canada Highway.
Photograph by:
Darren Stone , timescolonist.com (June 2012)
Langford council plans to recoup about $2 million by flipping a few houses spared from demolition during construction of the new Leigh Road interchange.
The city and a private developer salvaged 12 homes that were bought through land acquisitions along Leigh Road, where the new interchange - long known as the bridge to nowhere - connects to the Trans-Canada Highway.
The dozen homes are being relocated to vacant city lots, renovated and sold at market value.
"Rather than it being an expense to demolish and remove, it's going to make the city some money," said Jim Bowden, Langford's chief administrative officer. "We also found it to be a really green thing to do, instead of disposing of all that material."
Demolition costs for the houses could have reached $360,000, in addition to the estimated $5.3-million purchase price for the land they sat on.
Six homes have already been moved and restored, three by the city and three others by developer Jim Hartshorne of Keycorp Consulting Ltd. All six are on 5,500-square-foot lots along the end of Brock Avenue near the highway.
That portion of the block will become part of McCallum Road in the next phase of construction for the interchange, which could cost a total of $30 million.
McCallum will extend past Costco, run parallel to the highway and connect to the new interchange.
Bowden expects each home, with secondary suites, to sell for about $459,000.
Once an estimated $600,000 is deducted for moving and renovating the city's three houses, as well as preparing the lots with water, sewer and landscaping, taxpayers could see about $775,000 transferred to property reserves.
The remaining six city owned homes are expected to sell at similar prices and could bring in another $1.5 million after renovation and lot-upgrade costs.
"If we didn't have the land, it wouldn't have worked," Bowden said. "If the land costs you money, you'd almost make more building a new home on it."
Bowden's staff are trying to find appropriate vacant properties for the remaining homes.
"They have to fit the neighbourhood, which must be able to be accessed by a big truck with a house on it," he said.
Taxpayers will not foot any of the bill for the interchange, Bowden said.
The city has approval to borrow up to $25 million, which will be paid for by five property owners who plan to develop Skirt Mountain and Bear Mountain. Those owners also pay the interest on the debt.
dspalding@timescolonist.com
We thought you might also be interested in..