Island takes centre stage in battle to save languages
Jun 22 2012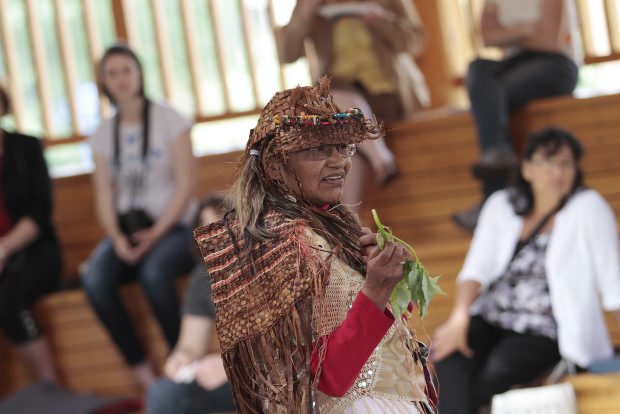 Dell Rice-Sylverster expounds on traditional medicine at Camosun College during celebrations of National Aboriginal Day on Thursday — on the same day that "language champions" launched a major web-based project.
Photograph by:
Lyle Stafford , timescolonist.com (June 2012)
A few years ago, up in Alert Bay, a woman taught me a phrase of Kwak'wala with which to impress my wife.
So, when Dr. Romance here got home, he decided to try it out. "Qwallayuw," I told my beloved. "It's a term of endearment, means, 'You're my reason for being.'"
"Whatever," she replied. Perhaps it lost something in translation.
Languages are nuanced that way, which is what makes it so sad when one disappears. It's like closing the curtains on a window offering a different view of the world.
"What the survival of threatened languages means, perhaps, is the endurance of dozens, hundreds, thousands of subtly different notions of truth," wrote Canadian author Mark Abley in his book Spoken Here.
Nowhere is that more apparent than here on Vancouver Island, where dozens of dialects and languages are in danger of vanishing.
And nowhere is the battle to keep them alive being fought so enthusiastically as it is here, which is why Google teamed with a Brentwood Bay-based organization when developing a website aimed at saving - or at least documenting - imperilled languages around the world.
The Endangered Languages Project was launched with a little fanfare (and a big pancake breakfast) at the offices of the First Peoples' Cultural Council on the Tsartlip reserve on Thursday, National Aboriginal Day.
At the project's core is endangeredlanguages.com, a website advertised as a virtual gathering place where "language champions" from around the world can post information, swap ideas and share languagerevitalization tools.
It is pretty much an empty shell right now, but the potential is terrific given the number of people working on endangered languages around the globe, says the council's executive director, Tracey Herbert. "Often, we feel like we're working in isolation."
Herbert's organization, which will help run the site, has emerged as something of techno-leader in the threatened-language world.
Last week, the native-run Crown corporation rolled out First Voices Chat, a texting app containing keyboards for hundreds of indigenous languages in Canada, the U.S., Australia and New Zealand.
Earlier, it had developed iPhone dictionary apps in nine languages, including the Saanich Peninsula's Sencoten. All are found on the extensive firstvoices.com site.
It might seem odd that the advances are being made in a region with such a concentration of shaky languages, but Herbert says that reality is what forced the council to become innovative. "We had to. Our diversity has pushed us to be more creative in language revitalization."
With 34 languages and 61 dialects, B.C. is home to 60 per cent of Canada's native languages.
A 2010 report showed that of the roughly 30,000 Aboriginal people on Vancouver Island, only a few hundred, most of them elderly, are fluent in the old tongues.
Most robust was Hul'q'umi'num', spoken by 278 people from Cowichan Bay to Nanoose and parts of the mainland.
With just 148 fluent speakers, Kwak'wala, the language of the Kwakwaka'wakw on the coast and islands of northeastern Vancouver Island, is listed as nearly extinct.
In the same category are the dozen dialects of Nuu-chah-nulth, spoken by a total of 115 people on the west side of the Island. Only 12 individuals are conversant in Ditidaht (or Nitinat).
While 60 still speak Sencoten - and the number of those learning it is rising - the associated tongues of T'Sou-ke, Lekwungen and Semiahmoo, which were spoken from Sooke through Victoria, are officially "sleeping."
Likewise, those attending Thursday's launch were told no one is left to teach Comox on Vancouver Island, so people in that area might learn Kwak'wala instead.
It's the same picture around the globe, with half the world's 7,000 languages expected to disappear by the end of the century. A map on endangeredlanguages.com plots hundreds of troubled tongues, everything from northern Spain's Aragonese, spoken by fewer than 10,000 people, to Russia's Khanty, in which fewer than 100 are fluent.
And let's not forget the story out of Mexico, where the last two speakers of Ayapaneco were no longer talking to one another after a squabble.
Maybe they should try a new language, turn to each other and say "Qwallayuw." It's pronounced kwa-la-yu.
jknox@timescolonist.com
We thought you might also be interested in..