War of 1812 medal still has no home
Jun 22 2012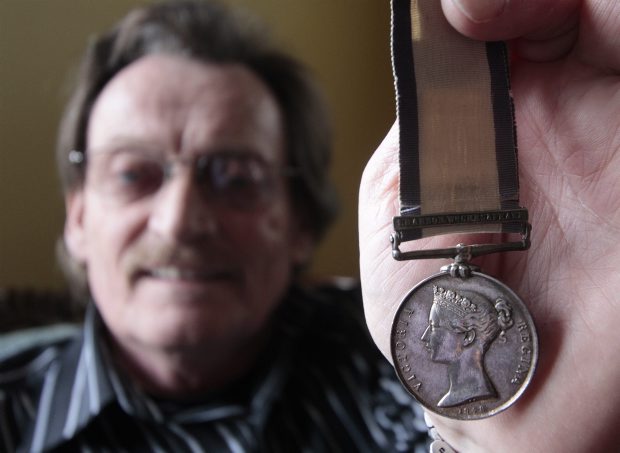 Mike Gifford holds the medal that was given to his great, great grandfather, who was onboard HMS Shannon when it defeated the American ship, the Chesapeake, during the War of 1812.
Photograph by:
Lyle Stafford , timescolonist.com (June 2012)
Heritage Canada may have no interest in it, but Mike Gifford's medal from the War of 1812 could find a home in the Maritime Museum of B.C. - if it can get funding for an exhibit.
Gifford said his great, great grandfather John Gifford served in the British Royal Navy and was onboard HMS Shannon when it defeated the American ship, the Chesapeake in 1813.
The medal was awarded in 1848, he said.
"To my knowledge, I'm the only family member [of a recipient] that's retained it, everyone else has sold them off," Gifford said.
The battle between the Shannon and the Chesapeake was significant, said David Zimmerman, military history professor at the University of Victoria.
"It was considered to be extremely important for British morale, after a series of defeats by American ships against British ships," Zimmerman said.
The tall sails of the Shannon are even displayed on the new commemorative toonie marking the 200th anniversary of the war. Gifford has already ordered three of the coins, which began circulating Monday.
But when Gifford contacted Heritage Canada and the office of Heritage Minister James Moore in January with an offer to loan the medal as part of the federal government's commemoration of the war's 200th anniversary, he received no response.
"In the East, they're spending millions for the War of 1812 and here's something that's really rare and no one returns calls," Gifford said.
Jonathan Irwin, executive director of the Maritime Museum of B.C., said the museum would be interested in including Gifford's medal in its exhibit dedicated to Western Canada's connection to the war.
But that depends on whether it can secure funding from Heritage Canada's dedicated War of 1812 fund.
While most of the War of 1812 was fought on the East Coast of North America, Barry Gough, a retired history professor of Wilfrid Laurier University, said the West has important connections to it.
Gough, who is lined up to be the key speaker at the proposed War of 1812 exhibit at the Maritime Museum of B.C., said Western Canada's borders were shaped during the war.
"I think if I was in the East, they'd be lining up the door to see it," Gifford said of his family's medal.
mkaralis@timescolonist.com
We thought you might also be interested in..
Notice
: Undefined index: event in
/home/viccity/public_html/v2/content.php
on line
67