Victoria police believe driver hit gas instead of brake in major traffic crash
Jun 22 2012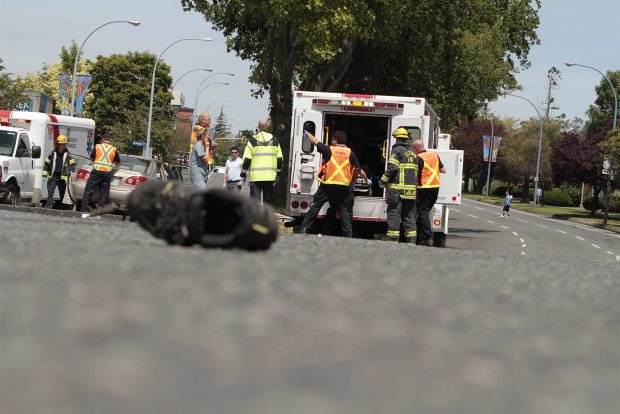 Emergency crews assist people injured in a five-car crash at Bay and Blanshard streets on Wednesday.
Photograph by:
Lyle Stafford , timescolonist.com (June 2012)
Victoria police believe the 85-year-old driver of the gold Toyota Corolla hit the gas instead of the brake which caused him to speed through a red light, hit a pedestrian and then four other cars Wednesday at the intersection of Bay and Blanshard.
Victoria police crash investigators are still trying to determine the speed the car was going northbound on Blanshard Street through the intersection, said Victoria police spokesman Const. Mike Russell.
Russell said crash analysts are still finalizing the report but their preliminary investigations reveals the driver held down the gas and did not brake as he pegged a pedestrian and four cars.
The driver and his 82-year-old wife, who was in the passenger seat, did not suffer serious injuries and have since been released from hospital.
The 41-year-old Victoria woman who was hit as she stood on the pedestrian median suffered only a broken leg, despite being thrown in the air as the vehicle hit her at full force.
"She was in good spirits," Russell said.
After hitting the pedestrian, the car hit a Volkswagen turning right from Bay Street onto Blanshard, then crossed the three northbound lanes, hopped a median, sideswiped two cars and hit a third head on.
No other drivers were injured.
Russell said it's lucky no one was seriously injured or killed.
"It could have been ugly," he said. "At that speed, it could have been fatal for both the driver and passenger."
A crash at the Victoria International Airport last year killed a cab driver and injured six others. It involved an 81-year-old driver who stepped on the gas by mistake and couldn't find the brake.
Shirley Zerbin pleaded guilty to driving without due care and attention, was fined $1,500 and banned from driving for three years.
kderosa@timescolonist.com
We thought you might also be interested in..