Capital gears up for grand tour
Jun 23 2012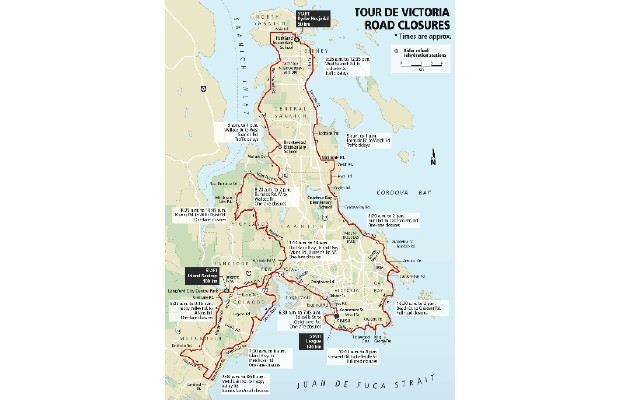 Tour de Victoria Road Closures
Photograph by:
Times Colonist , timescolonist.com (June 2012)
More than 1,500 cyclists from across North America are expected to take part in hometown hero Ryder Hesjedal's Tour de Victoria on Sunday.
Cyclists in the ride, founded by the 2012 Olympian and Giro d'Italia winner can pedal the full 140 kilometres or join in at the 100-kilometre or 50kilometre marks.
"We're promoting the sport of cycling but also the activity of cycling," said Seamus McGrath, director of the Tour de Victoria.
"It's something that's given myself and Ryder so much in our lives. The mission of this event is to share the beauty of cycling, not just from a sporting aspect, but as an activity and experience."
Riders from Ontario, Manitoba, Alaska, Arizona, Wisconsin, Massachusetts and local Victoria residents are expected to take part in the event, billed as a "mass participation ride."
Joining the event will be Derek King of Ontario, whose $10,300 US bid won an online auction for Hesjedal's pink Giro jersey this week. According to McGrath, King plans to donate it to the Canadian Sports Hall of Fame.
After sending out more than 20,000 letters and organizing with 13 municipalities and police, the Tour's Brooks Hogya said he expects a smooth weekend.
Single-lane road closures will be seen along most of the route, with cyclists riding clockwise around the route while motorists drive counterclockwise.
The only exception is in Highlands along Millstream Lake and Ross Durrance roads, where all traffic must travel in the same direction.
The route from Oak Bay to the legislature - including Beach Drive, Crescent Road, Dallas Road and Belleville Street - will be blocked off to drivers from 10: 15 a.m. to 4 p.m.
"We're asking for patience in the Langford area because we're crossing some major roads. There will be extended delays," Hogya said.
The League 140-kilometre ride starts from the legislature, which is also the finish line, at 7 a.m.
The Island Savings 100-kilometre ride starts at Langford's City Centre Park at 8: 15 a.m., and the Ryder Hesjedal 50-kilometre ride starts at Parklands Secondary School in North Saanich at 10: 30 a.m.
Registration for the event is still open and cyclists can register today online or at the Harbour Towers Hotel and Suites at 345 Quebec St.
Donna Morrissey, who was picking up her gear at Harbour Towers on Friday, plans to ride the full 140 kilometres. "Last year, when I saw them coming through, I thought, 'I'm going to do it for sure next year,' " she said. Morrissey expects to finish the race in about six hours.
McGrath said that while the event already has 500 volunteers, organizers are looking for more - especially road marshalls.
For more information, to register or to sign up as a volunteer, go to tourdevictoria.com.
mkaralis@timescolonist.com
We thought you might also be interested in..