Historic medal could find home in war museum's 1812 exhibit
Jun 23 2012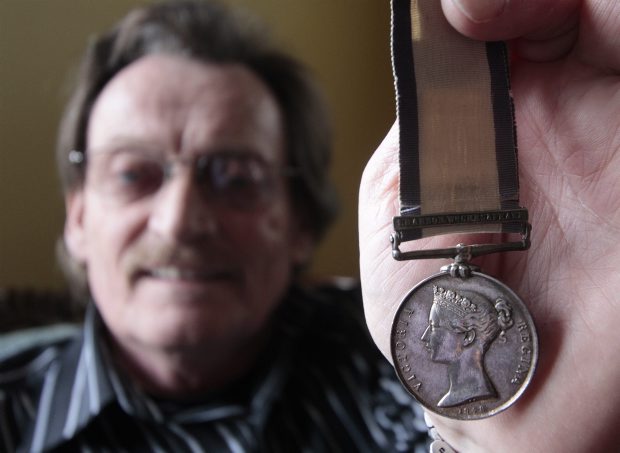 Mike Gifford holds the medal that was given to his great, great grandfather, who was onboard HMS Shannon when it defeated the American ship, the Chesapeake, during the War of 1812.
Photograph by:
Lyle Stafford , timescolonist.com (June 2012)
After six months, a Victoria resident has received an offer from Heritage Minister James Moore's office to display his family's War of 1812 medal.
Mike Gifford's great great grandfather, John Gifford, was awarded the medal for his involvement in the battle onboard the HMS Shannon when it defeated the American ship, the Chesapeake in 1813.
James Maunder, communications director for Heritage Minister James Moore, said the minister's office was unaware of Gifford's offer. He said Heritage Canada made note of Gifford's call in January and said they followed up, but Gifford said he never heard back from them.
"When someone calls our office and offers something like this, usually we pounce. Unfortunately, because we weren't aware, we weren't able to do it and that's through no fault of Mr. Gifford's," Maunder said.
The Maritime Museum of B.C. had expressed interest in Gifford's medal but is still looking to secure funding for its planned War of 1812 exhibit.
If the museum's exhibit doesn't work out, Maunder said, the Canadian War Museum's recently launched 1812 exhibit could be a possible home for the medal.
"We need to find a home for this," Maunder said. At the end of the day, artifacts like this are so rare and so cherished - and it sounds like quite the story how [Gifford has] held onto it - so we'd be happy to work with him."
After months of silence, Gifford said he is bewildered to now have interest from both the Maritime Museum and Moore's office.
"If Heritage Canada says they're ready to go, I would love to see the medal where it can be admired and respected. It should be included in the War of 1812 bicentennial celebration," he said.
Gifford said he will follow up with Maunder on Monday.
mkaralis@timescolonist.com
We thought you might also be interested in..
Notice
: Undefined index: event in
/home/viccity/public_html/v2/content.php
on line
67