Tour de Victoria rolls out today
Jun 24 2012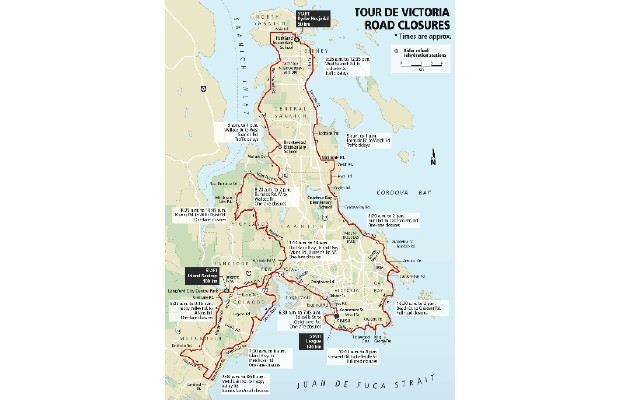 Tour de Victoria Road Closures
Photograph by:
Times Colonist , timescolonist.com (June 2012)
It's a celebration, not a race. Ryder Hesjedal's Tour de Victoria bands together more than 1,500 cyclists who can revel in the capital's reputation as a major cycling centre, built partly on the shoulders of Hesjedal, Canada's leading cyclist.
Cyclists have a choice of three distances: the full 140 kilometres, 100 kilometres or 50 kilometres.
The League 140-km ride, which starts and finishes at the legislature, includes many challenging climbs, lots of narrow winding roads and breathtaking views.
Much of the route follows along the region's waterfronts.
The ride starts at 7 a.m. today.
There will be single-lane road closures along most of the route. Cyclists will ride clockwise around the route while motorists will drive counterclockwise.
The only exception is in the Highlands along Millstream Lake and Ross Durrance roads, where all traffic must travel in the same direction.
The route from Oak Bay to the legislature - including Beach Drive, Crescent Road, Dallas Road and Belleville Street - will be blocked off to drivers from 10: 15 a.m. to 4 p.m.
The Island Savings 100-kilometre ride starts at Langford's City Centre Park at 8: 15 a.m., and the Ryder Hesjedal 50-kilometre ride starts at Parklands Secondary School in North Saanich at 10: 30 a.m.
For more information, go to tourdevictoria.com.
RULES OF THE ROAD
Despite the road closures, Tour de Victoria officials say that cyclists must follow the rules of the road. This means:
- Never crossing the centre dividing line, staying to the right, riding single file and passing other riders only on the left. Cyclists must warn other riders vocally when passing.
- There will be many road officials controlling traffic, including police officers and certified traffic-control personnel.
Volunteer marshals will guide riders along the route.
- Cyclists are required to obey police officers, traffic signals and certified traffic control personnel.
- When riding in packs, cyclists should have a bubble of space around them and never overlap wheels.
mkaralis@timescolonist.com
We thought you might also be interested in..