Strippers incensed by Langford's rebuff
Jun 24 2012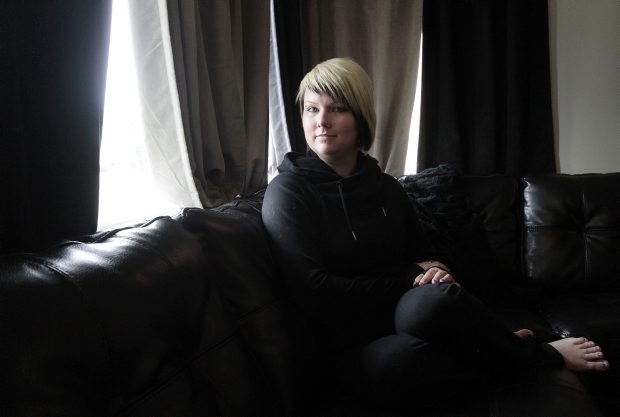 Cassandra Zuda: "We're not all druggies and boozers and neither are the customers."
Photograph by:
Lyle Stafford , timescolonist.com (June 2012)
Neighbours of Ma Miller's Pub in Langford rejoiced when management scrapped plans to introduce exotic dancers as way to attract new business. Local strippers, however, were offended.
Langford resident Cassandra Zuda was scheduled to perform at the pub after it transitioned to adult entertainment on June 20.
It would have given her and other dancers a venue close to home where they could make money.
But residents living in the Goldstream neighbourhood protested the concept last week, saying a strip club would bring in an undesirable clientele and ruin the character of the area.
Bar manager Dale Stephenson said he would have security guards in the parking lot and shuttle buses for patrons to ensure there were no disruptions, but his neighbours feared the worst.
Building owner Tony Piga stepped in and reportedly cancelled the lease with Stephenson, ending his plans.
"We're not all druggies and boozers and neither are the customers," Zuda said.
"We're normal people and these people have these outdated stereotypes of us that makes finding work so much harder."
Zuda and her friend Cassie Nova, a stripper who did not want to reveal her real name, say they face the negative stigma everywhere they go.
Whether they are applying for a loan at the bank or trying to print off promotion material at a stationery store, people look at them differently once they find out they take their clothes off for money.
They both recognize that some people in the industry may have addictions, and that there is the odd trouble-maker customer. But for the most part, they say, the dancers are just trying to earn a living, and people are respectful.
Zuda, 24, is planning to buy her second home and wants to become a plastic surgeon. She has been dancing for a year and plans to keep her job to pay for school.
Nova just opened a print shop catering to other dancers who need promotional material. So far, she said, business is booming and she is expanding well beyond the exotic dancing industry.
Changing people's perceptions of dancers may be a difficult challenge.
Langford's city council opposed the plans for strippers at Ma Miller's, with members saying they did not want any strip bars in their community.
Coun. Lillian Szpak called it a "loser industry."
But the provincial liquor license for the pub allowed the adult entertainment, making the political opposition merely a moral stance.
Zuda's roommate Tiffany, 25, who didn't want to give her last name, has been dancing for six months and plans to continue until she has enough to open a breakfast restaurant.
"I've been a chef, a florist, and I made a legitimate decision to take this job," she said.
"I consider myself an entertainer, like a belly dancer or a ballerina, but because I take my clothes off, people look at it differently."
dspalding@timescolonist.com
We thought you might also be interested in..