Good neighbours: Food bank fed by Kraft and Transit
Jun 24 2012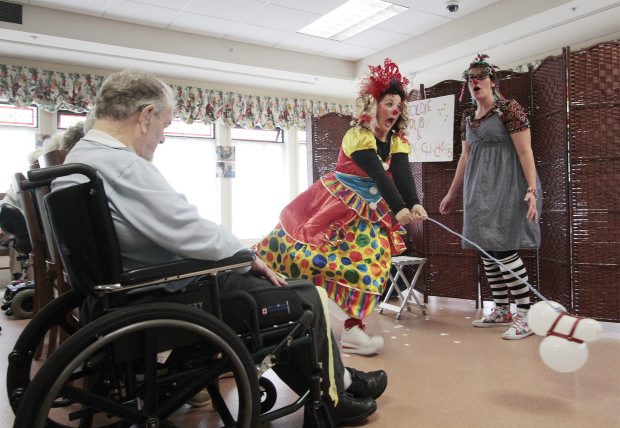 Members of the Sunshine Clown Society put on a show for the residents of Beacon Hill Villa. The non-profit group, made up of five volunteers, does much of its own entertaining at seniors' facilities, but also appears at other venues and private parties. Plans for 2012-2013 include training more clowns so the band can visit more seniors' homes.
Photograph by:
Lyle Stafford , timescolonist.com (June 2012)
One thousand jars of peanut butter and a double-decker stuffed with non-perishables have the Mustard Seed Food Bank replenished for at least a while.
With about 7,000 clients each month (1,600 of them children), it can be tough to keep up with demand throughout the year, but contributions like the peanut butter from Kraft Foods and B.C. Transit's Stuff the Bus campaign have made a timely difference.
"In the summer, the food bank is put under a little bit more strain, one of the reasons being that the kids don't have access to either breakfast or lunch programs in the schools," said Mustard Seed Food Bank director Brent Palmer.
The most recent edition of Stuff the Bus wrapped up last week and brought in an impressive 1,300 kilograms of food and $3,432 in cash donations. That puts the total from Stuff the Bus since it was first held in 2007 to a combined $100,336 in food and money, all of it going to the Mustard Seed.
The concept of Stuff the Bus is simple. Put a bus in a public place - the most recent event saw a bus parked at the Blanshard Street Save-on-Foods - and invite people to cram it with food. It was the brainchild of Transit drivers Jim Pullan and Randy White, whose union, local 33 of the Canadian Auto Workers, jumpstarted the latest effort with a $500 donation. Transit also donated $500.
Palmer said the efforts of Transit and Kraft could not have come at a better moment. He said the Mustard Seed was one of 34 food banks across the country designated to receive a large donation from Kraft, with notice coming last month during Hunger Awareness Week.
Palmer said he spent time at Stuff the Bus and was inspired by the generosity and community spirit on show.
"I was pleased with the amount of cash donations and food that was coming in. To Save-on-Foods and Transit, the employees and management, we're certainly grateful for all of their efforts."
Palmer said there is talk of expanding Stuff the Bus to more locations around the province. It is already happening in Kelowna, he said.
"One of the primary concerns that we have under the banner of Food Banks British Columbia is to try and help out the rural food banks, because they do not have the resource base like the urban centres."
Donations to the Mustard Seed can be made at its 625 Queens Ave. location or through a number of grocery stores.
DODGEBALL EVENT MOVES OUTSIDE
The Victoria Dodgeball Championships head outdoors for their eighth year, moving from Save-on-Foods Memorial Centre to nearby Royal Athletic Park.
Tourney time is July 14 from 11 a.m. to 6 p.m., with teams of six to 12 vying for dodgeball supremacy. Serious and recreational players can enter in separate divisions, and teams and individuals are encouraged to dress up to vie for bestcostume prizes.
Also up for grabs are the male and female MVD awards, short for Most Valuable Dodgeballer.
Cost is $30 per player, with net proceeds going to the City of Victoria Campership Program. The program helps low-income families send their children to summer camp.
Register for dodgeball at the Crystal Pool & Fitness Centre or call the centre at 250-361-0732.
THERE'S MADNESS ON THE MOUNTAIN
Mount Finlayson Madness is back, thanks again to Finlayson fanatic Andy Hughes.
Forty-year-old Hughes organized the first event last year after hiking up the 419-metre mountain almost daily for months on end, a feat that included two or three trips to the top on some days.
The inaugural Mount Finlayson Madness brought out 39 hikers and raised more than $5,000 for charity. Money raised this year will go to the Mustard Seed Food Bank, Jeneece Place/Queen Alexandra Foundation for Children, the Goldstream Park Enhancement Fund and St. John Ambulance.
Hughes said more than 30 people have already signed up for the July 14 climb, which goes from 8 a.m. to 8 p.m.
Volunteers are also being sought.
Hughes took up climbing the 1.6-kilometre Mount Finlayson trail in 2010 to lose weight, and ended up dropping 50 pounds in a little over a year. The charity climbing event was an extension of that, as is a book about his exploits that is nearing completion.
Hughes said he has eased his Mount Finlayson hiking routine of late.
"I stopped going every day at the end of February because I'd then done 365 days in a row."
He currently climbs two or three times a week.
Hughes said he is proud to have found out that his efforts have had a positive effect on others.
"There's actually quite a few people I've seen up there who've said that I was the inspiration for them going out and doing it to try and get fit themselves."
To register for Mount Finlayson Madness as a participant or a volunteer, go to finhike.org.
"People can also sign up on the day and give a donation and join in," Hughes said.
jwbell@timescolonist.com
We thought you might also be interested in..
Notice
: Undefined index: event in
/home/viccity/public_html/v2/content.php
on line
67