Cancer relay a moving event
Jun 24 2012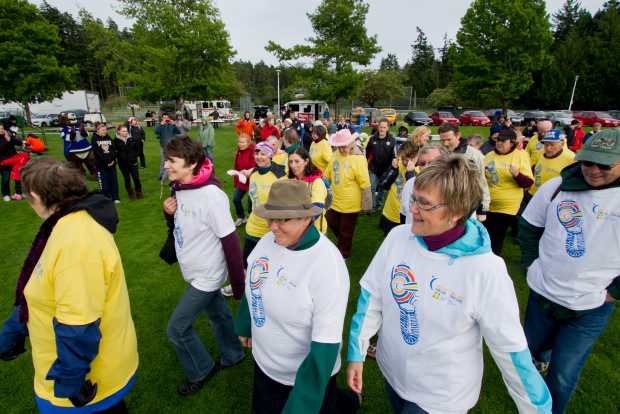 The Relay for Life starts in blustery conditions at Juan de Fuca Recreation Centre.
Photograph by:
Darren Stone , timescolonist.com (June 2012)
As much as the Canadian Cancer Society's Relay for Life event is about moving, participants who took part on Saturday say they come for the spirit of community.
Liz Zdunich has been volunteering for Victoria's Relay for Life for nine years and led the warm-up at Juan de Fuca Recreation Centre's field on Saturday evening.
Her dad has had recurring cancer, including bladder and prostate cancers, for the past 31 years.
"I've never known life without fighting back against cancer," Zdunich said. She has attended many cancer events, but said Relay for Life is different.
"This is a really sacred space to connect with other people and process our experiences and remember those that we've lost."
More than $71,000 was raised through Victoria's Relay for Life, part of a national campaign where fundraising teams come together for 12 hours to walk or run.
This year, more than 250 people on 42 teams raised money and about 100 made it to Saturday's overnight event. Organizers said the total amount raised would be announced early next week.
Due to high winds and the threat of thunderstorms, organizers expected the event would not run until 6 this morning as planned, but would finish between 10 and 11 p.m.
Julia Johnston, co-chair of the leadership committee, said the wind was so strong, even tents being held down by cinder blocks were lifted. "We decided we needed everyone to be safe, safety is our priority. We took down every tent with a lot of help from everyone," she said.
Despite the weather, Melanie Bishop, the other co-chair, said she hoped the Luminary Ceremony, where participants dedicate a paper bag with a candle inside to those touched by cancer, would continue.
"Each bag carries the spirit of somebody. It's a symbol of that person and the battle they fought," Bishop said. "They're very important for people. They decorate them and take them home."
For Jill Graham, the Relay for Life has gotten easier each year she's taken part. She lost her husband, David, to brain cancer three years ago. The first year was painful for her and three sons, she said.
"Now, it's a way to give back and hope for others that they don't have to go through what we did."
mkaralis@timescolonist.com
We thought you might also be interested in..