Esquimalt's bid to introduce traffic calming and bike lanes on Admirals Road facing opposition
Jun 26 2012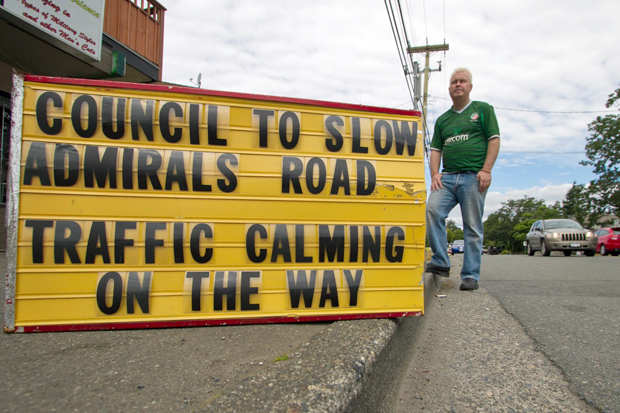 Scott Attrill: "Councils, regardless of who they are, are disacknowledging the fact that people are using these roads."
Photograph by:
Darren Stone , timescolonist.com (June 25, 2012)
Esquimalt's bid to introduce traffic calming and bike lanes on Admirals Road is hitting a speed bump even before it gets underway.
Scott Attrill, owner of Floyd's Hairstyling for Men at 829 Admirals Rd., says he has collected about 210 signatures on a petition opposing the plan to remove traffic lanes in favour of islands with plantings and bike lanes.
"Basically, what's happening here is that councils, regardless of who they are, are dis-acknowledging the fact that people are using these roads. There's only two ways to get out to Langford," Attrill said, adding that many people don't like the idea of losing traffic lanes.
The majority of CFB Esquimalt employees live in the West Shore, Attrill said. So Esquimalt's plan to reduce the number of traffic lanes on Admirals - much like was done on Esquimalt Road or what View Road did to the Island Highway - makes no sense, he said.
Esquimalt has applied for $2.8 million worth of funding for the project through B.C.'s General Strategic Priorities Fund. The plan is to eliminate two of the four existing traffic lanes and add bike lanes; traffic calming islands with vegetation; improvements to the storm-water collection system; improvements to bus shelters and new asphalt.
Last year, backed by $750,000 from the Capital Regional District, the municipality studied the feasibility of painting bike lanes on Admirals between Maplebank Road and Lyall Street.
Mayor Barb Desjardins said the municipality has merely applied for a grant. "We probably will not get a response to this funding [request] until 2013," Desjardins said. "Nothing [is] happening if there is no funding. If there is funding, then there's a whole community process that goes by. And if, at the end of the day it is not acceptable, perhaps we turn the funding down."
Desjardins said she supports bike lanes but has real concerns around narrowing the road in that area. She said it might be more appropriate to do work first farther down the road toward View Royal and the highway.
Coun. David Schinbein agreed.
He said he supported to the grant application because of proposed improvements to the storm-water system.
"My difficulty with the calming features are that I don't think they are necessary in that part of the road, and I think they would block sight lines. There are still condos on either side of the road that have significant numbers of people living in them," Schinbein said.
Attrill, whose business hasn't recovered from four years it took to rebuild the Admirals-Colville Road intersection, said politicians are dreaming if they believe new bike lanes will prompt motorists to abandon their cars and instead pedal on their daily commute.
Attrill says it's ironic the funding might come through the General Strategic Priorities Fund, which is geared toward projects that reduce greenhouse gas emissions.
If the plan goes ahead, motorists will be backed up through the base as they try to get onto Admirals since there will only be one lane in either direction, he said.
"They're all going to be sitting with their engines going, waiting to get off the base."
Opponents to the plan have also created a Facebook group called I Hate Flowerpots in the Middle of Our Roads, where people can post comments.
bcleverley@timescolonist.com
We thought you might also be interested in..
Notice
: Undefined index: event in
/home/viccity/public_html/v2/content.php
on line
67