Public hearing: Witnesses questioned use of force by Victoria police
Jun 27 2012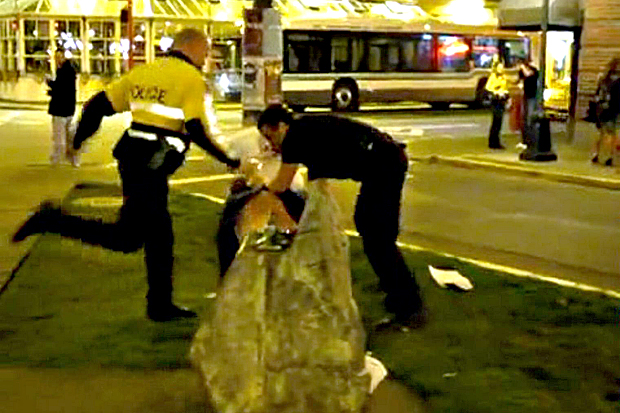 An image from a film uploaded to YouTube shows two officers standing over a person during the incident.
Photograph by:
Screenshot , YouTube
Two more people who witnessed Victoria police constables Chris Bowser and Brendan Robinson forcibly arrest Tyler Archer on March 21, 2010, after a nightclub brawl testified at a public hearing Tuesday morning.
Joel Hibbard, 27, placed a 911 call after he saw Bowser and Robinson using force as they arrested Archer. Hibbard was drinking with friends at Swans brew pub, sitting in the glassed in atrium at the corner of Pandora and Store streets, and watched the brawl break out outside Social Club. Then he watched Archer's arrest which has become the subject of much controversy.
The public hearing has been ordered by the Office of the Police Complaint Commissioner because the YouTube video that captured the incident sparked outrage and debate over whether the level of force was acceptable.
OPCC lawyer Mike Tammen asked Hibbard why he called 911 on the officers.
"I thought the individual on the ground was going to wind up getting hurt. He was definitely being treated in a way that could cause some serious harm to him and I didn't think it was appropriate and I decided to step in, I guess," Hibbard said.
Robinson's lawyer, David Butcher, referred to Hibbard's statement to Vancouver police when he said he thought the officer's actions were inappropriate because it looked as if Archer was not being combative and that his hands were already cuffed.
Butcher pointed out that Archer's hands were not yet cuffed.
"I don't feel like that level of force is ever really acceptable on a person lying on the ground," Hibbard said. "He didn't, from my vantage point, didn't look to be fighting back."
The adjudicator Ben Casson heard the 911 call Hibbard placed. He's audibly intoxicated, saying he needs "fresh" cops to come down to the Social Club. The call taker says there are already police officers there.
"The police right now are doing a terrible f---ing job," Hibbard said.
Casson also heard from Grace, a woman who was driving over the Johnson Street bridge and stopped her car on Store Street when she witnessed officers running to break up the brawl.
"I saw officer Chris Bowser... just kind of bashing and kicking and I was going 'is that the way you treat the people?' I didn't like that ... and I stayed to witness the rest," she said.
McCrimmon, 62, said she heard Bowser tell Archer to get down on the ground with a very authoritative voice.
"And the young man sat down, and an officer with dark hair pushed him on his side. And I thought 'wow, that was a heavy push.' And the fellow, Tyler, I would say was being very cooperative and he didn't fight, he wasn't combating the police or anything like that."
McCrimmon said she honked her horn over and over to try and distract Bowser.
"The young man was going 'ow' and I was feeling the pain for him. I feel the need for the knee on the back and the kicks, it was not necessary."
McCrimmon shook her head and cringed when the YouTube video was played.
McCrimmon said she was so angry she got out of her car and tried to get another officer to help Archer, pointing out that his nose was bleeding.
"My heart was bleeding for the kicks that Tyler got," she said.
She went home so upset, she called Victoria police and asked to speak to a supervisor, who told her the officer was just doing what's he's trained to do. McCrimmon wrote a letter to police chief Jamie Graham expressing her frustration.
The afternoon session will hear from the man who filmed the YouTube video, which has been viewed over 270,000 times.
Two investigations cleared the officers of wrong doing but Police complaint commissioner disagreed with that finding and has the power to order a public hearing.
We thought you might also be interested in..
Notice
: Undefined index: event in
/home/viccity/public_html/v2/content.php
on line
67