Group launched to help families of drug addicts
Jun 27 2012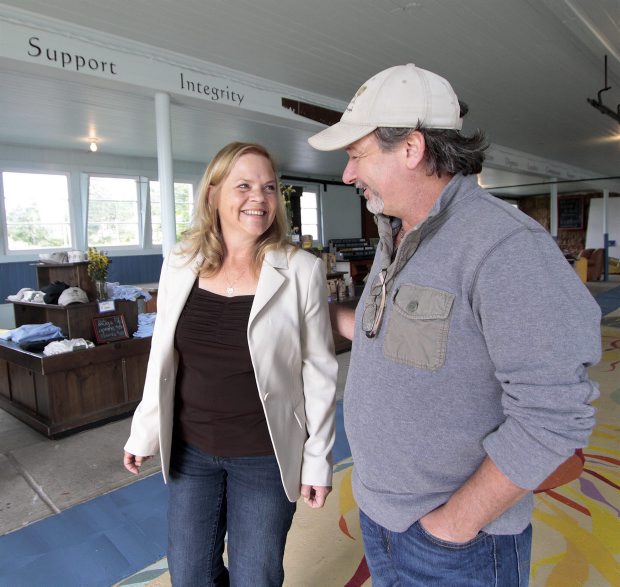 Louise Chabros, founder of Close to Home, talks with Richard Leblanc of the Creating Homefulness Society on Tuesday at Woodwynn Farms.
Photograph by:
Lyle Stafford , timescolonist.com (June 2012)
Louise Chabros compares addiction to a game of Russian roulette: No one wants to become an addict, but trying a drug once could trigger a lifelong battle.
After watching her 32-year-old son, Chris, struggle with addiction, Chabros decided to launch Close to Home, a group that aims to provide support for the families and loved ones of those who are homeless, mentally ill or fighting addiction.
"Sometimes, the road has been very lonely," Chabros said. "A lot of times if you go to talk about your child, you're also stigmatized."
Homelessness and addiction are often synonymous with unemployment, she said, but her son has worked for plumbing companies since leaving school at the age of 16.
"Chris has been homeless, not on the streets, but bouncing from couch to couch. People do that for years."
The creation of Close to Home was announced Tuesday at Woodwynn Farms, a Central Saanich therapeutic community that caters to people who are homeless, mentally ill or struggling with addiction. Participants work and live at the 78-hectare farm on West Saanich Road.
Chabros volunteers there and said her group plans to partner with the organization.
Woodwynn's board wants to build accommodations to house 96 participants and 24 staff but needs approval from the Agricultural Land Commission.
In April, the board applied to remove less than one hectare from the agricultural land reserve in order to build accommodations, but the plans were rejected. Current zoning only allows four people to live on the site.
Close to Home will lobby aggressively on behalf of Woodwynn, Chabros said, adding that the ad hoc group is in the process of establishing a board of directors to become a nonprofit. Funds will be privately raised, she said.
Programs like Woodwynn are unique because they don't use a check-in, check-out framework that limits support, Chabros said.
"What makes the difference with therapeutic farms is if it takes years, they're there," she said.
Richard Leblanc, chairman of Woodwynn's Creating Homefulness Society, said the Close to Home initiative is powerful.
"When a loved one spirals out of control, there's confusion, there's fear, the experience is laden with judgment," he said.
"It's a group of people who have not been heard from."
Leblanc said Woodwynn Farms is operating as best it can with limited financial resources. Funding for the farm comes from private donations and profits from hay sales and an on-site market.
"We look forward to growing support from the broader community," he said.
cclancy@timescolonist.com
We thought you might also be interested in..