View Royal drive launched to stop $8-million loan for new fire hall
Jun 27 2012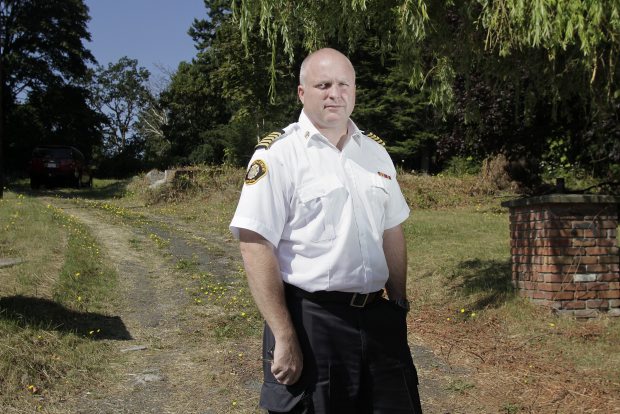 View Royal Fire Chief Paul Hurst at the site of the municipality's proposed new fire hall.
Photograph by:
Lyle Stafford , timescolonist.com (June 2012)
Frustrated View Royal residents want to stop the municipality from borrowing $8 million to replace its outdated and seismically fragile fire hall.
Council plans to build a new protective services building that would include a new fire hall, training centre and administration space, but some residents are aggressively campaigning against it.
To get the public's approval, council opted for a process that would authorize the loan unless 10 per cent of registered voters - 770 people - file forms opposing it by July 11.
About 20 residents began a campaign last week, saying there should be more public consultation and a full referendum.
"No one knows anything about this," said Kim Saladana, one of the people collecting the forms. "We just want to know what other options council has looked at before this one; $8 million is a lot of money."
Mayor Graham Hill questioned the lack of awareness about the proposed building, considering council has worked on it for about five years and has held several open houses. The topic was also discussed considerably during the November election and was part of the political platforms of at least four elected councillors.
"We've worked our way through that pretty well. What we have in play here is an endeavour to ensure community safety," Hill said. "There's not much point having an emergency centre that falls down."
The group has so far collected about 510 forms. If they reach the targeted 770, a full referendum on the borrowing must be held.
Council said they wanted to avoid a referendum because of the cost, but the group collecting the forms accused the politicians of using a complicated process to ensure approval. Coun. Ron Mattson was the only politician to vote against the loan. He has also criticized the process.
"This is an undemocratic way to borrow $8 million," he said. "It's outrageous to use it to borrow that amount of money."
Mattson also opposes council's plan for a new building, saying there could be other ways to provide the same service.
"From my perspective, I'd like to see some options," he said. "What are the issues we're trying to resolve, and what other options do we have?"
Hill said council has looked at several options, including upgrades to the existing 50-year-old fire hall and the possibility of other sites. This was the best option, he said.
The proposed facility would provide View Royal with room for service growth for 35 to 50 years. Should the loan be approved by the public, council expects to start construction in November.
dspalding@timescolonist.com
We thought you might also be interested in..
Notice
: Undefined index: event in
/home/viccity/public_html/v2/content.php
on line
67