Victoria police board needs a makeover, mediator says
Jun 28 2012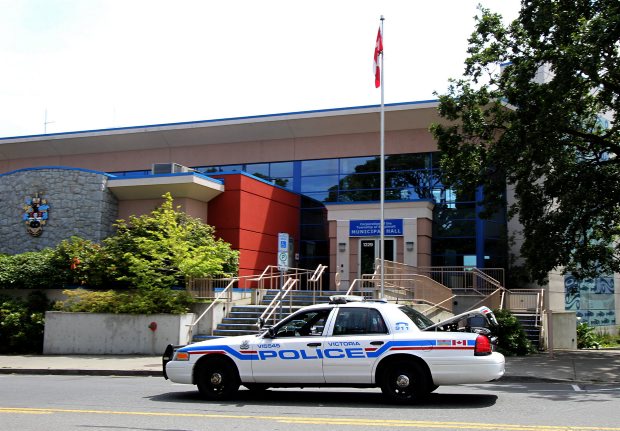 A police car cruises by Esquimalt municipal hall on Wednesday. The provincial government ordered Esquimalt to stay with the Victoria police and plans to change the name of the force to the Victoria-Esquimalt Police Department.
Photograph by:
Bruce Stotesbury , timescolonist.com (June 2012)
The Victoria police board needs a substantial overhaul to deal with the dysfunctional relationship between the two communities it serves, according to a government-appointed mediator.
Jean Greatbatch, a Vancouver mediator, delivered a 34-page report on problems between the Township of Esquimalt, the City of Victoria and the Victoria Police Department.
It painted a damning picture of the nine-person police board, which is supposed to provide civilian oversight of the department.
The board, along with senior department staff, lack proper planning, goalsetting, evaluation, budgeting, dispute resolution and communication practices to satisfy the current policing arrangement, Greatbatch wrote in her report.
In particular, she zeroed in on the 2002 amalgamation of Victoria and Esquimalt police, saying it was done within weeks and then never reviewed, as was intended. As a result, Greatbatch said, the board never had the right tools to succeed - and conflicts have festered since.
Victoria city council has more information about the police force than Esquimalt council, which should be changed, she said.
Victoria's mayor chairs the police board, with Esquimalt designated as vice-chairman. They should become co-chairs to reflect a more equal partnership, Greatbatch said.
Other board members have questioned whether the two mayors could put aside their partisan issues, and have begun to "discount" the mayors' concerns, Greatbatch wrote.
The report also appears to highlight a tension between the amount of control wielded by senior Victoria police staff on the annual budget, and a lack of ability for board members, and municipal councils, to question details and explain to the public why police costs continue to rise while the crime rate falls, Greatbatch's report says.
The annual budget process contains little discussion about strategic planning, objectives or performance measures.
"The board has become so focused on its budget that it does not spend time examining policing priorities in the two communities," Greatbatch wrote.
The Victoria Police Department should change its name to reflect Esquimalt's presence, and the department needs to recognize that Esquimalt is a distinct community, with a specific desire for community policing, wrote Greatbatch.
The department should also undergo an efficiency review to find internal savings, said Greatbatch, who noted overall policing costs rose by 45 per cent between 2002 and 2009, despite the number of officers increasing by 11.5 per cent and the number of lower priority calls decreasing.
Greatbatch recommended 43 changes to board governance, planning, conflict resolution, financial management and budgeting.
Justice Minister Shirley Bond said she accepts all of the recommendations.
A new policing framework should be signed by the end of October, said Bond. Then the province will give police board members "advanced training" into their responsibilities, she said. In November, the government will also set up advisory committees to gather citizen input on policing.
"The report really highlighted where we could do things better and sets that blueprint for us doing it better," said Victoria Mayor Dean Fortin. "The board takes responsibility for implementing what's coming forward, making sure that that works."
rshaw@timescolonist.com
We thought you might also be interested in..
Notice
: Undefined index: event in
/home/viccity/public_html/v2/content.php
on line
67