Oak Bay nixes lodge proposal
Jun 28 2012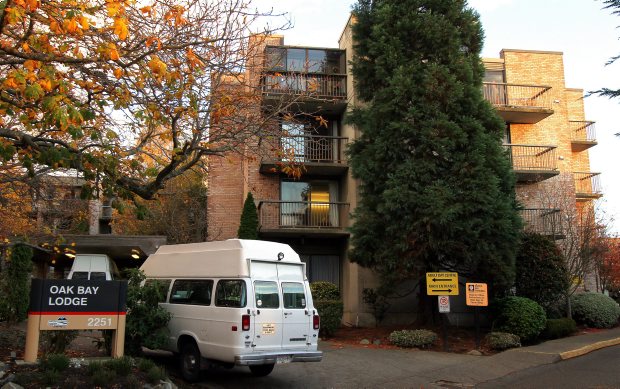 Oak Bay council voted against allowing variances for Baptist Housing's proposed replacement for the Oak Bay Lodge.
Photograph by:
Bruce Stotesbury , timescolonist.com (June 2012)
Oak Bay council said no Wednesday to replacing Oak Bay Lodge with a 320-bed, $80-million seniors facility.
Calling it the most difficult decision in his 15 years on council, Mayor Nils Jensen voted against allowing two variances that would have allowed a sixstorey, complex-care development to be built on the site of Oak Bay Lodge at 2251 Cadboro Bay Rd.
Jensen was joined by councillors Cairine Green, Tara Ney and Michelle Kirby in opposing the bid by Baptist Housing to vary municipal bylaws on the building's height - increasing it beyond the maximum by 13.12 metres - and decreasing the minimum number of parking spaces from 320 to 109.
Councillors John Herbert and Kevin Murdoch voted in favour of allowing the variance.
Baptist Housing and the Vancouver Island Heath Authority had wanted to replace the outdated 243-bed seniors facility with one that offered complex care.
Ney, who was travelling overseas, attended the meeting by Skype and noted the wedge the project had driven into the community. Variances are intended to vary properties in minor ways, but this was "a very large building for the site," she said.
"It's not that residents of Oak Bay don't like change - we care how change happens," she said.
Herbert said that similar concerns had been raised over an earlier development, Carlton House, but fears were not borne out by the facts.
Green noted that the issues raised by the project are complex "because they touch on the technical, social and emotional" concerns in the municipality.
Murdoch said that Oak Bay had been given no choice by VIHA on the building's size, saying: "VIHA is the agency that determines the need for beds - 320 beds drives this design, it just does."
Modern standards demand Oak Bay Lodge's replacement to be bigger, he added.
Jensen criticized VIHA's lack of interest in Oak Bay's concerns. "We work and make decisions in silos," he said.
The size of the proposed development was inappropriate for the site, he said.
An option could be to replace the lodge with a smaller facility and use municipal land somewhere else for a second small facility.
"But we were not invited to the table [with VIHA] and I feel we should have been," said Jensen.
Oak Bay had rejected the initial redevelopment bid in November, and an extensive period of public consultation followed.
Bowing to public concern, Baptist Housing had scaled back the majority of the building to five storeys from six.
The development has been a controversial issue, with hundreds of letters and emails sent to council from the community. An earlier public hearing drew 200 people to Monterey Recreation Centre.
smcculloch@timescolonist.com
We thought you might also be interested in..
Notice
: Undefined index: event in
/home/viccity/public_html/v2/content.php
on line
67