Jack Knox column: Suddenly, Jeneece is grown up with new goals
Jun 28 2012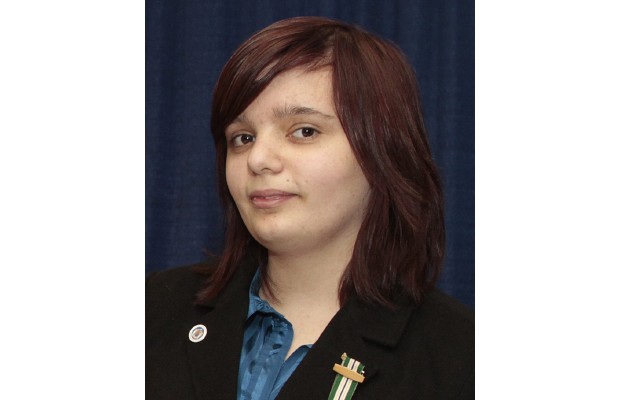 Jeneece Edroff: graduating from Claremont Secondary.
Photograph by:
Lyle Stafford , timescolonist.com (June 2012)
'My first goal," says Jeneece Edroff, "is to get a proper pediatric oncology unit in Victoria."
Commuting, or even relocating, to Vancouver and B.C. Children's Hospital is way too hard on families of kids with cancer, she says.
Then she mentions a second project, something about bridging pediatric and adult care at Victoria General, and follows that with talk of building another Jeneece Place, this one in Nanaimo.
Of course, there are other matters to attend to first, such as her high school graduation today. She has a hair appointment, an awards ceremony at Claremont Secondary, then the grad, dinner and dance at UVic. -
"Time is going by way too fast," Jeneece says, working on a skim-milk Frappuccino in the Uptown Starbucks.
Yes, it is.
Seems like yesterday that Jeneece was the plucky seven-year-old with the penny drive. Suddenly, she's 18 and has an entire $5.5-million hospital building with her name on it. She has grown up in public, before our eyes, Victoria's best-known kid.
"I've been in the news since I was three," she says. That's when she was diagnosed with neurofibromatosis, a rare, cruel condition that causes tumours to grow on nerve pathways.
"They thought she might be walking until age 10," says her mother, Angie Edroff. "That was their best-case scenario."
She beat that prognosis, but the truth is there is no fairy-tale ending to this story. Jeneece lives with pain, with two rods travelling the length of her spine, held in place by 40 screws.
Three other screws, longer than your fingers, run through her hips. Her fourfoot-10 frame has endured so many operations that Angie has to pause to total them - 15 so far, including nine back surgeries.
Doctors think a tumour lurks inside Jeneece's spine, that more surgery awaits. Something is making her leg go numb. A trip to the Mayo Clinic in Minnesota should provide a clearer picture, if not a happy one.
Yet none of this fazes Jeneece. "I just keep going. I can't let my condition knock me down." She carries on like any other teen, likes shopping with friends, listening to Taylor Swift and - surprise - Patsy Cline. "I love old music."
But, of course, she isn't any other teen. Her neurofibromatosis sets her apart. So does her fame.
She is in the spotlight, all the time. (Pause to consider how you would have enjoyed having every teenage decision scrutinized.) "I don't mind it, but it's kind of crazy now. Every time I go out someone's staring at me, or a mother whispers, 'That's Jeneece.' "
Her celebrity has grown ever since, at seven years of age, she organized a penny drive at Northridge Elementary. It took in $164 for the Variety Club, which had bought her a body brace. That effort evolved into the Jeneece and Friends Coin Drive, which raised more than $1 million for Variety.
She has also been involved in the Cops for Cancer Tour de Rock, which raises money for the Canadian Cancer Society's Camp Goodtimes, a place she considers "home" - somewhere to find the acceptance and understanding often missing in the wider world.
She could have surrendered to a brutal affliction. Instead, she turned it into a source of power - to the point that the Jeneece brand is a valuable commodity. It's hard to imagine Jeneece Place, the home away from home for families with children in Victoria General Hospital, would have opened in January had she not been a magnet for million-dollar donations.
She says fundraising is part of her life. "It's like a musical instrument. When someone loves music, they stay with it."
Her parents sometimes worried that it was all too much, once rejecting a television station's request to interview their daughter from her hospital bed. No, said Jeneece, people should see what it means to be a sick kid. The interview went ahead, had impact. "I honestly don't know how she does it," Angie says.
What's next for the Claremont grad? Jeneece plans to take a year off, then earn a degree as a child life specialist - two years at Camosun, followed by two at UVic. "I love hanging out with kids," she says. "They're the people who inspire me the most."
jknox@timescolonist.com
We thought you might also be interested in..
Notice
: Undefined index: event in
/home/viccity/public_html/v2/content.php
on line
67