Trucker who spilled gasoline into Goldstream River pleads guilty
Jun 29 2012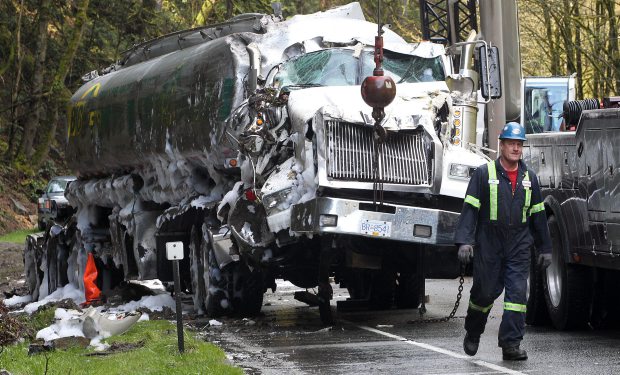 The driver of the Columbia Fuels truck lost control and crashed the vehicle on the Malahat. 42,000 litres of gasoline spilled into Goldstream River.
Photograph by:
Adrian Lam , timescolonist.com (June 2012)A Columbia Fuels truck driver whose vehicle crashed on the Malahat in April 2011, spilling 42,000 litres of gasoline into Goldstream River, has pleaded guilty to dangerous driving and violating the Fisheries Act.
James Allan Charles Smith, 34, of Nanaimo made his first appearance in Western Communities provincial court Thursday morning and entered two guilty pleas before Judge Josiah Wood.
The slightly-built man, with sandy brown hair and eyeglasses, is also charged with impaired driving and driving with a blood alcohol level over 80 milligrams in connection with the April 16 crash.
In March, Smith was charged under the Fisheries Act with permitting the deposit of gasoline and diesel fuel into fish habitat as a result of the spill. He was also charged under the Environmental Management Act with unlawfully allowing waste to enter the environment in the course of his business and introducing gasoline and diesel into the environment in such a manner or quantity to cause pollution.
Wood ordered the preparation of a pre-sentence report and adjourned the case until Aug. 23 to fix a date for sentencing.
It is expected the Crown will stay the impaired driving charges and the charges under the Environmental Management Act at Smith's sentencing.
Outside court, Smith's lawyer Dale Marshall said his client was struggling. He did not wish to comment any further on the case.
Remediation work near Goldstream Provincial Park began immediately after the tanker-truck crash. About 617 tonnes of contaminated soil were removed. Water quality has improved dramatically, according to provincial government testing that indicates measurements of hydrocarbons have been below detection levels since the end of July 2011.
This spring, about 3,000 coho salmon were introduced into the river.
ldickson@timescolonist.com
We thought you might also be interested in..