Tweets for Victoria safe streets
Jun 29 2012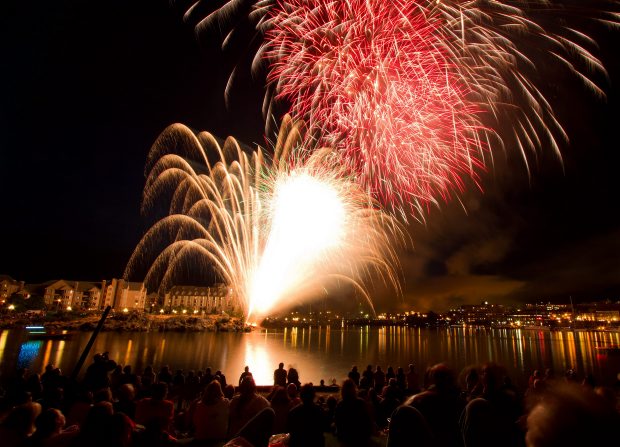 Crowds watch fireworks in the Inner Harbour on July 1 last year. This year's show starts at 10:20 p.m. Sunday.
Photograph by:
Lyle Stafford , timescolonist.com (June 2012)
Victoria police will be using social media again this Canada Day as part of efforts to keep the downtown festivities family-friendly and safe.
RCMP and police from Victoria, Saanich, Central Saanich and Oak Bay will be out in full force Sunday as they expect 40,000 people to join the celebration downtown.
Victoria police were happy with last year's use of social media, which saw VicPD becoming a trending topic on Twitter, and are encouraging the public to again use Twitter as a way of letting them know about any dubious activity.
Const. Mike Russell said police will be monitoring the hashtag #VicPDHelps for tips between 4 p.m. and 2 a.m. and responding accordingly, sending police to the scene as warranted. People are encouraged to call 911 for emergencies.
"We're hoping that the expanded presence of social media will be of added benefit to the community and help answer any questions immediately if they come," Russell said.
Victoria police have laid the groundwork for this type of initiative, said Janni Aragon, a University of Victoria political science professor. An active social media user and recent winner of a West Coast Social Media award, Aragon said Victoria Police's social media and community presence has increased this past year.
"I think they've humanized the police force by using social media."
Alcohol will be banned on B.C. Transit buses for Canada Day. Police and B.C. Transit will be working together to uphold the one-day policy.
"We're there to assist B.C. Transit," Russell said. "We're not doing random searches, but if they have information or we have information that someone is on the bus with liquor, then we're able to interdict that."
B.C. Transit has the right to ask to search passengers' bags, said spokeswoman Meribeth Burton.
"We work with Victoria police and essentially at the roadblocks they'll say, 'Do you have people that are non-compliant or do you have reason to suspect people are transporting liquor?' and that is when the police can intervene. It's at our request because it is our property," Burton said.
Eleven buses were cleaned after riders vomited in them last year — a situation that can pose a health hazard, Burton said.
On Sunday, expect road closures around the Inner Harbour starting at 4 p.m. as Belleville Street closes between Menzies and Douglas street, and Government Street closes between Superior and Humboldt streets. Gorge Road will be closed between Admirals and Tillicum from 8 a.m. to 6 p.m.
mkaralis@timescolonist.com
We thought you might also be interested in..