New online tool shows your chances of grabbing a walk-in campsite
Jun 30 2012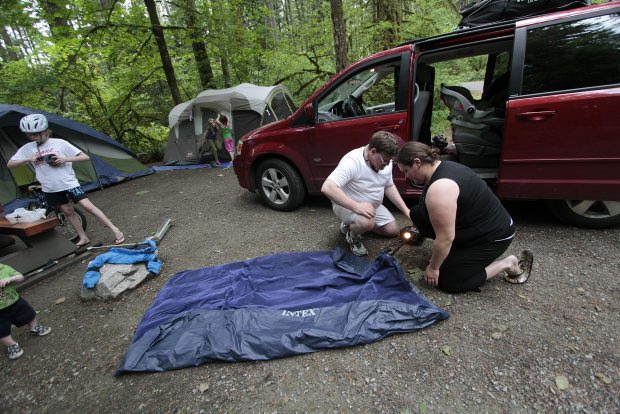 Campers Cindy Abbott and Stephen Perestam inflate a mattress at Goldstream Provincial Park on Friday.
Photograph by:
Lyle Stafford , timescolonist.com (June 2012)
Long weekends are typically the busiest times of the year for provincial and national parks, but for those looking to get away for Canada Day, there is still hope.
This year, B.C. Parks launched a first-come, first served availability tool on its online reservation site, discovercamping.ca.
It shows the likelihood of being able to nab a walk-in campsite, said Nathalie Dechaine, a recreation service specialist.
On Friday evening, the tool indicated there were Island camping spots available at Gold stream Provincial Park.
For those willing to make a trip to the mainland, there were openings at Herald Provincial Park on Shuswap Lake, Kokanee Creek in the Kootenay region and Lakelse Lake near Terrace.
Vancouver Island is one of the most popular regions for campers choosing provincial parks - during the 2010-11 season, 478,422 people pitched their tents.
The Island, Lower Mainland and Okanagan - the province's most populated areas - are also the busiest regions for B.C. parks.
The three regions account for about 57 per cent of all campers in B.C.
"I think the idea of a staycation, like staying around the Island and having a great time with your family, is starting to gain more traction," said Laura Judson, communications officer for Parks Canada.
Vancouver Island's Rathtrevor Beach park is the second most popular park after Golden Ears, with 78,739 campers during the 2010-11 season.
But Dechaine said a longer drive can be worth it.
"Don't just think of Vancouver Island," she said.
"We have some wonderful camping opportunities across the province. Especially up north, there's less people. If you're looking for even front-country camping, it's just not quite as busy as it is here down south."
But before heading out, did you pack everything? Parks Canada's new smartphone app, Learn to Camp, has a checklist handy for both new and seasoned campers.
"It's so easy to forget a tarp, forget rope, forget something to put your garbage into, so it makes sure you have all those little things you need," Judson said.
The app has been downloaded more than 4,000 times since its launch on June 17.
Learn to Camp is available for free on iPhones, BlackBerrys and Android phones and has features to help find a suitable park and tips from Parks Canada employees.
If a road trip is part of your summer plans, the Ministry of Transportation advises to be wary of wildlife while driving.
Animals are most likely to be on the road in the early morning, at night and at dusk.
The province is also reminding residents to be aware of flood conditions when planning any outdoor activities, as parts of the Lower Mainland and Interior are experiencing high water levels in lakes and rivers. (Story, page A2).
Travellers on B.C. Ferries can soak up knowledge through the Coastal Naturalist Program, now in its seventh year.
B.C. Ferries has also expanded its schedule for the summer months.
The busiest route, Tsawwassen-Swartz Bay, will host 32 sailings per day by four ships.
Horseshoe Bay-Departure Bay will have 22 sailings and Tsawwassen-Duke Point will have 16 sailings every day.
Travel through Horseshoe Bay-Langdale and travel to the Southern Gulf Islands includes an extra ship Thursday to Monday.
mkaralis@timescolonist.com
We thought you might also be interested in..
Notice
: Undefined index: event in
/home/viccity/public_html/v2/content.php
on line
67