Fernwood community builder Paul Phillips remembered for his vision and generosity
Jul 03 2012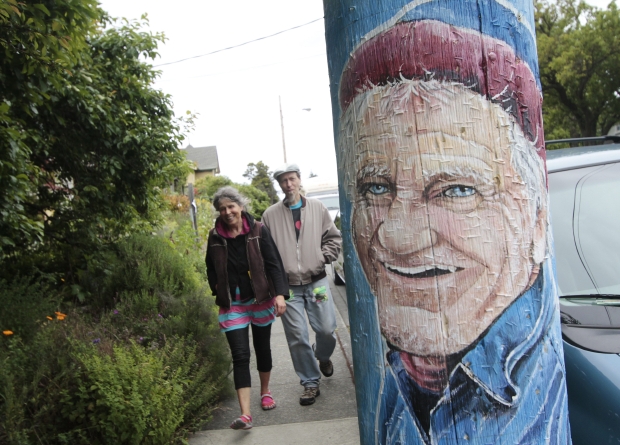 Phyllis Pacheco and Jason Erwin walk past a mural of Paul Phillips, a longtime Fernwood resident who died recently. He was instrumental in countless initiatives in the community
Photograph by:
Lyle Stafford , timescolonist.com (June 30, 2012)
Each corner you turn while walking through Fernwood, you see the work of Paul Phillips.
His contributions to the neighbourhood are as varied as their locations - Fernwood Square, Spring Ridge Housing Co-operative, street closures, urban gardens and pocket parks.
Paul Phillips died on May 17, 2012 in his Fernwood home at the age of 79.
A memorial service was held Saturday for Phillips at the Fernwood Community Association's office - space he helped acquire.
People shared memories of Phillips' tea, his landscaping work and love of folk music. One of Phillips' tenants played his old guitar. He said the reason Phillips took him in was the reason he had been kicked out of other apartments: playing loud music.
After the service, Ben Isitt, city councillor and friend of Phillips, led a walking tour to 12 Fernwood locations that Phillips helped transform.
"On paper, it was one thing to look at two community centres, four different pocket parks and housing co-ops, but we thought it would be great to - bring people together to graphically see the legacy that he left for the community," Isitt said.
Fifty people joined in the procession, taking up the whole road with their kazoos, drums and banners that read "Paul Phillips, Community Builder."
The first stop was Fernwood Square. A key part of Phillips' vision for Fernwood was street closures, to break up traffic and create public spaces. At the height of the campaign that Phillips led to create the square was in 1976, public surveys and door knocking were used to seek public support for closing off Gladstone Avenue.
"To see how this is universally valued now, this is on the cover of the city's new Official Community Plan as the signature spot in our whole city of Victoria and yet, it was a huge battle 40 years ago to close this street off," Isitt said at Fernwood Square.
The tour continued to street closures on Pembroke, Chambers and Grant streets and Queens Avenue. Phillips didn't work alone - most of his work was with the Fernwood Neighbourhood Improvement Program as part of the federal Neighbourhood Improvement Program in the 1970s.
"He allowed it to grow more as a community and be more communityoriented than be just another set of streets and cars," said community association president Tony Sprackett, who lives in Spring Ridge Housing Co-operative, the next stop on the tour.
Phillips helped to stop the demolition of 17 houses on Pembroke Street in the 1970s. The province bought the land, sold the houses for $1 each back to the community and an affordable housing co-operative was built.
The Compost Education Centre on Chambers Street, previously known as Fernwood Solar Farm, brought Chris Cook back 30 years.
After pouring red paint over the orca statue in front of the old Sealand of the Pacific to protest the whale slaughter in the 1970s, Cook, 21 at the time, was arrested. He served his 70 hours of community service alongside Phillips, building the community garden.
The tour came to a close by walking by three houses that Phillips renovated to provide affordable housing units. About 25 people live there now. Phillips donated the three homes to the Community Land Trust, which provides affordable housing. Isitt hopes the model will inspire others to donate their Fernwood homes to the trust.
A legacy fund has been started to continue Phillips' work through the Fernwood Community Association. It will provide funding for the Community Land Trust as well as seed funding for new community projects.
"We want to continue Paul's work, it's not just about celebrating what he built and saying 'This is a great square.' We want to continue acting on this kind of vision," Isitt said.
His image will live on as part of the Fernwood Neighbourhood Resource Group's pole painting project. Zara Leaf painted Phillips' portrait on the pole in front of one of his rental homes on Camosun Street.
"I did it for the community, his family and to make it more beautiful. It feels like it's everyone's," she said.
At the end of the tour, Phillips' ashes were buried and a fig tree was planted in the front yard of one of his rental homes.
mkaralis@timescolonist.com
We thought you might also be interested in..