Deer euthanized in Centennial Square after being hit by vehicle
Jul 03 2012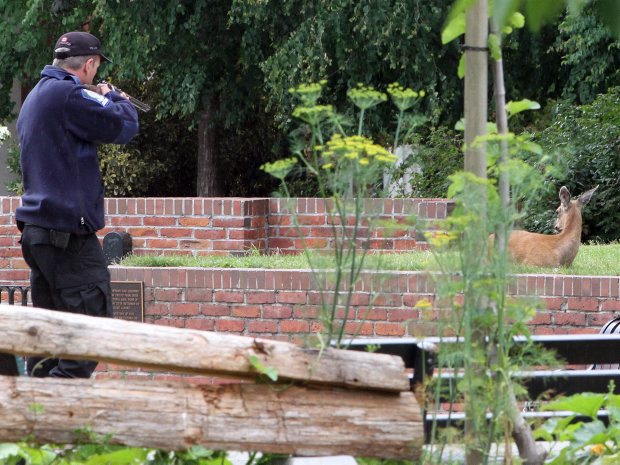 Conservation officer Peter Pauwel shoots an injured deer in Centennial Square
Photograph by:
Adrian Lam , timescolonist.com (July 2, 201An injured deer that wandered downtown was euthanized by a conservation officer on Monday afternoon.
The deer suffered a broken leg after being hit by a car at the intersection of Douglas Street and Cormorant Avenue, said Const. Rick Anthony, who was on scene. The vehicle's driver didn't appear injured according to police.
Two police units responded to the situation about 2:30 p.m. after multiple 911 calls, Anthony said. The deer had sought refuge on a patch of grass in Centennial Square.
"It's tragic, whether it's a cougar, or a bear, or a deer," Anthony said. "She was very badly wounded."
Police cleared Centennial Square and waited for conservation officers and B.C. SPCA to arrive.
"It's such a public space. If there's any way we could've changed this location, we would have," Anthony said, adding that moving the deer would have caused a safety issue.
"They're very unpredictable ... she was in fight-or-flight mode."
He said deer rarely wander downtown despite going into other areas of Victoria.
"It's a wild animal in the heart of downtown," he said. "I'm an animal lover, so it's tough."
Caroline Crawford of the B.C. SPCA said the leg was too badly wounded to survive.
"We consulted with the [Wild Animal Rehabilitation Centre.] They advised humane euthanasia, because when [deer] are older than one year, they can't be rehabilitated," she said. "It's very sad."
Adam Sheffield from Victoria Animal Control Services said he received a call earlier in the day from a member of the public who saw a deer walking down Blanchard Street. He said that, though conservation officers handle all wildlife issues, he responded to the call.
"I looked and couldn't find it," he said. "It had disappeared."
The increase in the number of deer in the region, particularly in more urban municipalities, is a growing concern. The Capital Regional District has set up a citizens advisory committee to study and evaluate potential options, from keeping the status quo up to a cull. The committee is to report to the CRD later this summer. The CRD would then make recommendations.
-- With files from Kim Westad
cclancy@timescolonist.com
We thought you might also be interested in..
Notice
: Undefined index: event in
/home/viccity/public_html/v2/content.php
on line
67