Victoria's Canada Day crowd size up, arrests down
Jul 03 2012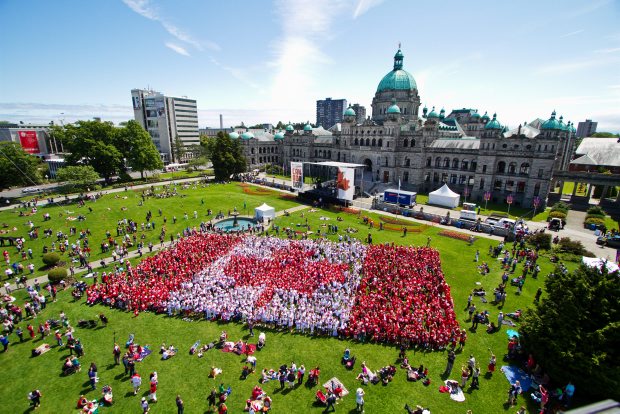 Volunteers form a human flag on the lawn of the B.C. legislature on Canada Day.
Photograph by:
Darren Stone , timescolonist.com
Attendance was up but drunken rowdiness was down at Victoria's biggest Canada Day celebration yet.

Police estimated attendance at 50,000. Despite the large numbers, the downtown festivities remained "family-friendly," said Victoria police spokesman Const. Mike Russell.

Compared with last year, there were about 15,000 more people crowding the Inner Harbour, but 22 fewer arrests. Of the 63 arrests, 42 were for public intoxication. "The whole culture around Canada Day is changing," Russell said.

Saanich residents led the way in arrests at 18, followed by Victoria residents at 12.

Police implemented a new social media initiative that meant concerned citizens could use Twitter to send tips to the police with the hashtag #VicPDHelps.

"It was huge for us this year, we ended up having a lot of info passed to our officers," Russell said.

Among the tweets, active from 4 p.m. to 2 a.m., were reports of a 90-year-old missing man, who was later found, and two reports of alcohol on B.C. transit buses. Buses had implemented a full-day alcohol ban, a policy that was essential to keeping the downtown environment safe, Russell said.

Victoria police received 200 calls for service, down from 264 last year.

Russell said police units manning check stops had some interesting encounters. At one roadblock, a driver faced fines for driving without supervision while using a learner's licence. He had five drunk friends in the back of the car "who were puking everywhere," Russell said. "He got a handful of tickets and some car cleaning bills," he said.

The Integrated Road Safety Unit gave three impaired drivers 90-day prohibitions, effective immediately. Along with traffic tickets issued during the night, the unit also arrested two people for drug possession.

July 1 is the busiest day for police in Victoria, with about double the calls typically received on New Year's Eve, Russell said.

cclancy@timescolonist.com


We thought you might also be interested in..
Notice
: Undefined index: event in
/home/viccity/public_html/v2/content.php
on line
67