Lollipops help fend off trouble at Canada Day celebrations
Jul 03 2012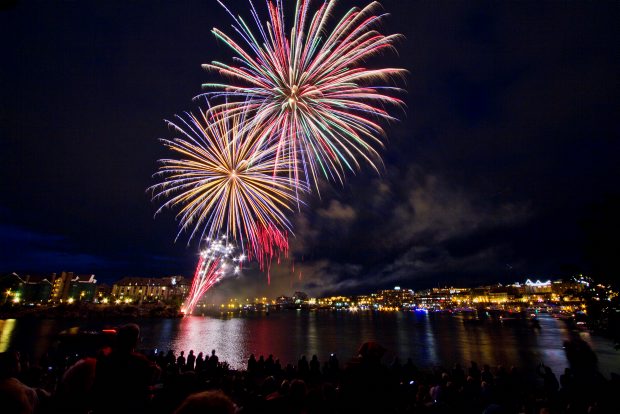 Fireworks light up the Inner Harbour as seen from Laurel Point on Canada Day in Victoria.
Photograph by:
Darren Stone , timescolonnist.com
A record crowd estimated at 50,000 people jammed Victoria's Inner Harbour on Sunday night to celebrate Canada Day.
That's up more than 10,000 from last year's event, something police attribute to nice weather and Canada Day falling with a day off following.
There were numerous alcohol-related arrests at the gathering, mostly for being drunk in a public place and assault. Final numbers are expected to be tallied this morning, but preliminary estimates looked as if the number arrested might be less than last year.
Victoria police Const. Mike Russell said social media were instrumental in helping police. The department set up a Twitter hashtag called #VicPDHelps, where the public could send in tips from 4 p.m. to 2 a.m. Those ranged from a missing 90-year-old man who was separated from his wife as the crowd dispersed — he was found — to a group of rowdy teenagers coming in on B.C. Transit from Sidney passing beer around the bus. The bus was stopped, the teens taken off and their liquor poured out on the spot.
Police presence was heavy on the streets around the Inner Harbour, focused on stopping alcohol from coming in. Victoria police were joined by members and reserve constables from Saanich, Central Saanich, Oak Bay and the RCMP. Large amounts of alcohol were poured out, Russell said.
Victoria police cells were filled as were the sheriff cells at the Victoria courthouse.
Anyone found with open alcohol faced a $230 ticket on the spot, and the booze was poured out. A minor in possession of any alcohol — open or not — is fined $230.
Being drunk in a public place will cost you $115 and likely an overnight stay in a jail cell. Last year, 80 people were arrested on such a charge. On an average weekend night, "maybe a couple" of people are ticketed and put in the drunk tank to sleep it off, Russell said.
Police don't disclose the precise number of officers working, but Russell said it's a "full contingent."
Victoria police used social media extensively last year and became a trending topic on Twitter. About 120,000 people viewed Victoria police's Twitter, YouTube and Facebook posts last year.
Alcohol was banned from B.C. Transit buses for the day. Random searches were not done, but if police or transit had information that someone has liquor on board, it will be confiscated and the person will be ticketed.
Victoria Coun. Charlayne Thornton Joe said there was more of a family presence at the event this year than before.
Thornton Joe had about 2,000 of the lollipops that garnered her international attention last year when she handed them out after the fireworks display. She had read that a sign of good will, such as giving potentially rowdy people a candy like that, could be calming. So the City of Victoria put that in its $200,000 Canada Day budget again.
The $200,000 budget is largely paid by business sponsors. About $175,000 is recouped, Thornton Joe said.
The fireworks are the grand finale of the celebration, but the city has focused on providing more family-focused entertainment in the hours before that. Families and groups of friends covered the legislature lawn by 5 p.m., listening to music from across Canada, parking their bikes in the "valet bike" parking and using the bouncy castle.
People often ask why the fireworks aren't bigger every year, Thornton Joe said. Rather than pumping money into that, council is trying to increase other family entertainment, she said.
"We found this year that we had families staying longer."
kwestad@timescolonist.com
We thought you might also be interested in..